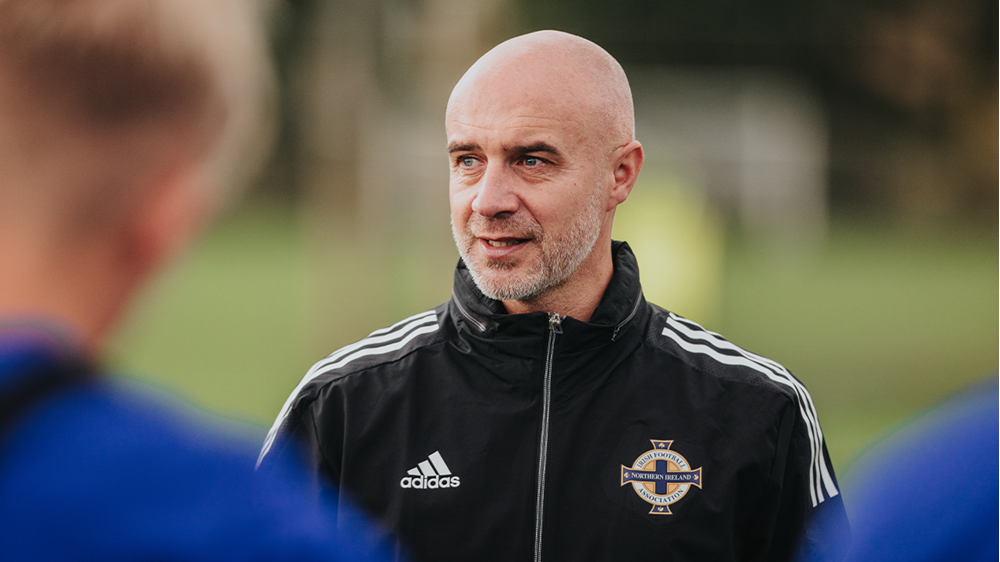 Northern Ireland Under-19s and Under-17s boss Gerard Lyttle is expecting tough challenges ahead for both of his teams in the elite qualifying rounds of their respective UEFA Euro 2023 competitions.
Next spring the U19s will be taking on France, Romania and Norway, while the U17s are set to face Netherlands, England and Denmark.
In the U19 competition only the winners of seven elite groups will qualify to join hosts Malta in the finals next July.
Lyttle acknowledged his U19s had been drawn in "a tough group" at UEFA HQ in Switzerland today, however he said both he and his players will relish what will be "a massive challenge".
"We have only lost two games in the last two years, so we are capable of producing good performances. We have a strong team who have been together for three or four years," he pointed out.
The draw for the initial qualifying round for UEFA U19 Euro 2024 was also made today, however Northern Ireland were not included as they automatically qualify as tournament hosts.
In the current edition of the U17 competition eight elite round group winners and seven runners-up with the best records will join hosts Hungary in the final tournament at the end of May.
Lyttle said his U17s face a huge challenge in the qualification matches next spring, however he believes the games will provide "an unbelievable experience" for the players against some of the top footballing nations on the planet.
There was a second U17 competition draw today - for the qualifying round for UEFA U17 Euro 2024.
Northern Ireland were drawn in a group featuring Italy, Greece and San Marino. Those games will be played next autumn and the manager said he had high hopes for the squad of players who will be making the step up from U16 to U17 level in just under a year from now.
The top two teams in 13 groups will progress to the elite round along with the five third-placed teams with the best records against the top two in their section. Hosts Cyprus qualify direct for the final tournament, while top seeds Netherlands will enter the competition in the elite round.