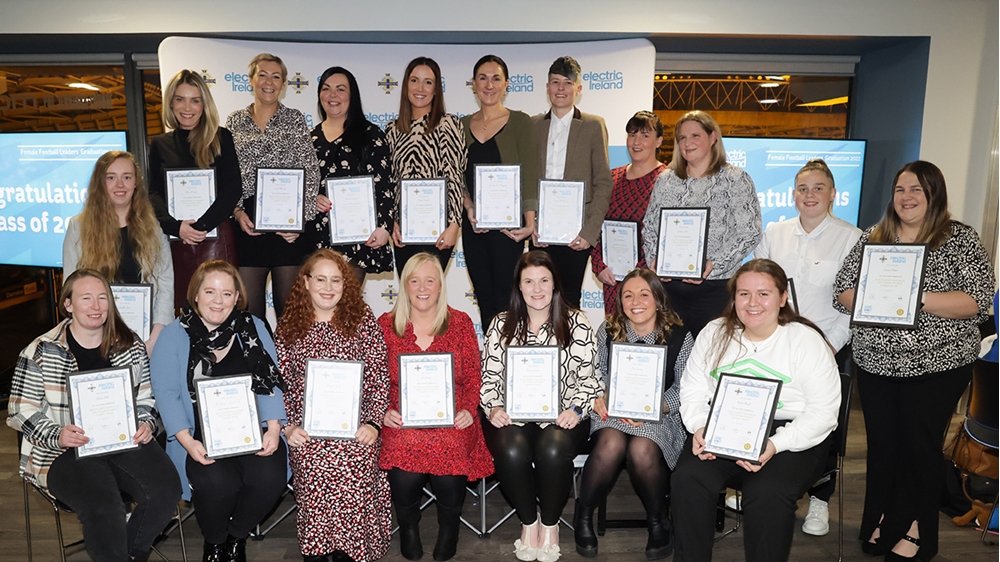 The 2022 graduation ceremony for the Female Football Leadership Programme, which is run by the Irish FA Foundation and sponsored by Electric Ireland, was staged at the National Football Stadium at Windsor Park at the start of December.
Twenty graduates from 13 different clubs across Northern Ireland were presented their certificates by Irish FA President Conrad Kirkwood.
The event was hosted by broadcaster Denise Watson and featured a panel discussion with Northern Ireland captain Marissa Callaghan and defender Julie Nelson who highlighted the importance of developing and equipping women for leadership positions within football.
The 2022 edition of the Female Football Leadership Programme, facilitated by Reboot, was the largest cohort since the launch in 2013 and continues to encourage females who are passionate about football to develop leadership skills to further impact their clubs.
The Irish FA Foundation Development Manager Gail Redmond acknowledged the increased interest in the programme: "We are delighted that so many females in sport are pursuing opportunities to be in prominent positions within their clubs. This programme aims to develop and upskill them over a 10-month learning period and beyond.
"We have 20 fantastic graduates this year and I look forward to seeing how they influence their communities for the better."
The graduates were Ashlene Bustard (Lisburn Rangers Ladies), Carol McCrea (Belfast Swifts Girls FC), Charlie Bell (Belfast Ladies), Clara Alvarez Alonso (Belfast Ravens FC), Clare Johnston (Ards Rangers), Gabriella Lowe (LawInSport), Helen Parker (Lisburn Rangers Ladies), Julie Boyde (Bloomfield FC), Lauren McElkerney (Donegal Celtic), Lauren Reaney (H&W Welders Girls), Leanne Kerr (1st Bangor Ladies), Louisa Parker (Lisburn Rangers Ladies), Lucinda Love-Teggarty (Valley Rangers), Noelle McMahon (Armagh City FC), Oonagh Hamill (Belfast Swifts), Rachel Magill (1st Bangor Ladies), Sarah Forsythe (Valley Rangers Girls Academy), Tori Laverty (Shorts FC), Kathryn Jemphrey (Ards Rangers Ladies) and Tracey Barritt (Ards Rangers Ladies).
To see more from the evening, check out the photo gallery below.