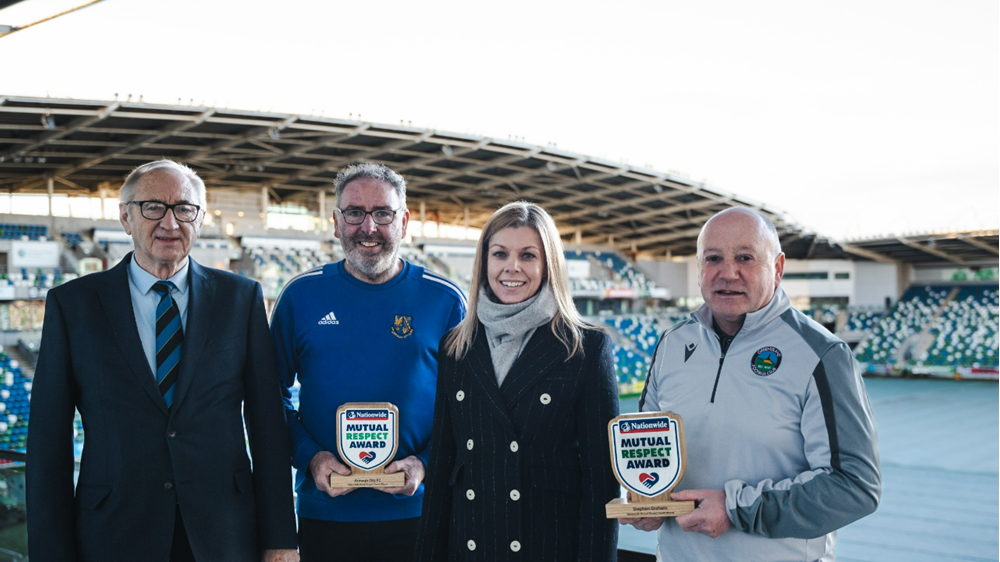 An experienced youth coach at Greenisland FC in Co Antrim and Armagh City FC are the latest winners of Nationwide Mutual Respect Awards.
Last year the Irish FA and Nationwide Building Society joined forces to create the award, which aims to help make grassroots football in Northern Ireland more respectful and positive. 
The award for the second quarter of 2022 has been presented to Greenisland coach Stephen Graham.
And NIFL Premier Intermediate club Armagh City have won the Q3 award.
Stephen Graham's nomination for the award stated: "With over 20 years of coaching experience, Stephen is a valued coach at Greenisland FC where this season he is helping to coach the 2010 and 2011 boys' teams.
"Stephen has spent his whole life in youth football and has been a true role model to all the thousands of kids he has coached during this time.
"He spent the past few years coaching my son at Greenisland and from day one he put great effort and time in with the kids to teach them to respect all their coaches, parents and opponents. He has certainly made my son a better young man."
Armagh City have been rewarded for the development of their underage teams over the past four years.
Their nomination stated: "The club now caters to all youth, from experienced footballers to development sessions, and has started a disability football group as well, which has been very successful. 
"A lot of time and effort has been put in by volunteers, giving up their free time in the evenings and weekends to bring this success. I could nominate so many different people for the individual award, but feel each one should win it, so that is why I have nominated the club."
The Nationwide Mutual Respect Award recognises outstanding contributions, achievements and behaviour in grassroots football across the country by young players under 18, coaches, teams/clubs, parents and referees. 
The winners of the award receive a trophy, and the accolade of being a Nationwide Mutual Respect Award winner, and they also win tickets to an upcoming Northern Ireland game at the National Football Stadium at Windsor Park. 
Nominations are now open for the Q4 award and anyone over 18 can nominate their 'grassroots respect hero'.
To nominate a player under the age of 18, a coach, team/club, parent or referee who has made an outstanding contribution to the game or their community go to: www.irishfa.com/mutualrespectawards
The nomination window for the Q4 award closes on 2 January, with the winners notified in January.
Image: Gayle McVea, Member Relationships Director North Region with Nationwide, presents the Mutual Respect Awards to John O'Neill and Martin McCann from Armagh City FC and Stephen Graham (Greenisland FC).