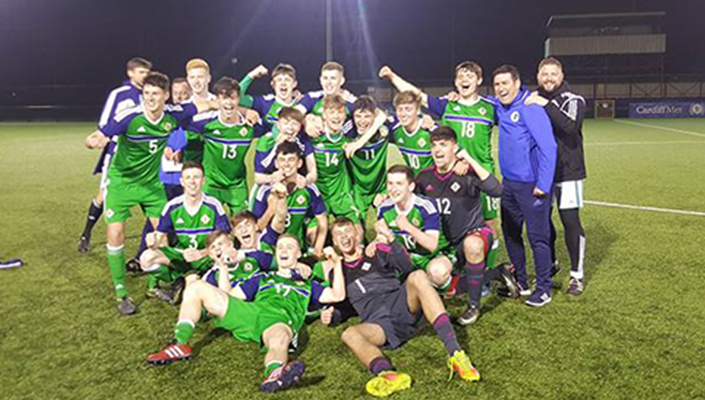 The Northern Ireland Under-18 Schoolboys' team have secured at least a share of this season's Centenary Shield.
And if England and the Republic of Ireland draw in Dublin this evening Northern Ireland will win the trophy outright.
The U18s defeated Wales 3-0 in Cardiff yesterday evening to make it three wins out of four in this season's shield competition.
The nine points may be enough for overall victory. The Republic, who have six points from three games, would share the trophy with Northern Ireland if they defeat England in Dublin this evening.
And if England - on three points from two games - win in Dublin they still have to play Wales. If it's a draw this evening then Northern Ireland will lift the trophy.
The comprehensive 3-0 win last night capped a great season for the Schoolboys squad.
The match at Cardiff Metropolitan University sparked to life in the second half when a stubborn Welsh defence was unlocked by a delightful 20-yard free-kick from Ryan Strain. 
The visitors went two up shortly after when a through ball sent Daniel Reynolds in on goal and he made no mistake with a sweet strike into the corner of the net. 
The third and final goal came late on when Niall Owens was upended in the penalty area and Eamon Scannell stepped up to score from the spot. 
Team manager Frankie Wilson was delighted with his squad's efforts.
He said: "It's not often as a manager you have a feeling of contentment. Last night's win in Wales was extra special. Despite being in total control we couldn't get the goal. We missed a conservative 10 gilt-edged chances. But as Niall Owens said 'this team would always find a way'.
"This achievement can be traced back to last summer. The first step was scouting at the SuperCup (formerly Milk Cup). The process then progressed to trials featuring more than 120 boys throughout Northern Ireland. We travelled to Derry-Londonderry, South Armagh, Magherafelt and Belfast to get a squad. 
"Each Sunday since November we have been working with the squad. Coach Brian Donaghy's sessions were both innovative and challenging with possession and retention being important elements. Eamon Curry and Newry High School's Simon Nicks assisted as goalkeeping coach and defence coach. Kitman Adam Steed was brilliantly organised. Our physio Linda was most professional and secretary Bob Ramsey was forever the wise old head."
The manager said he told the boys last night their three wins in this season's shield competition will be "forever remembered".
He pointed out: "To beat England 4-1 away from home and score two in the last five minutes against Scotland will live long in the memory. 
"One sad part was that my old teacher and NISFA secretary Martin Donaghy passed away before Christmas and didn't see us do so well in the Centenary Shield. 
"The win is also dedicated to my friend and co-manager last year Conor Marlin who had to leave our shores to find work in football. 
"We had a little luck this year. It's a commodity we didn't have in the last three years. I told the boys that they should bask in the glory as it's not often a team from Northern Ireland outplay and dominate and win tournaments."