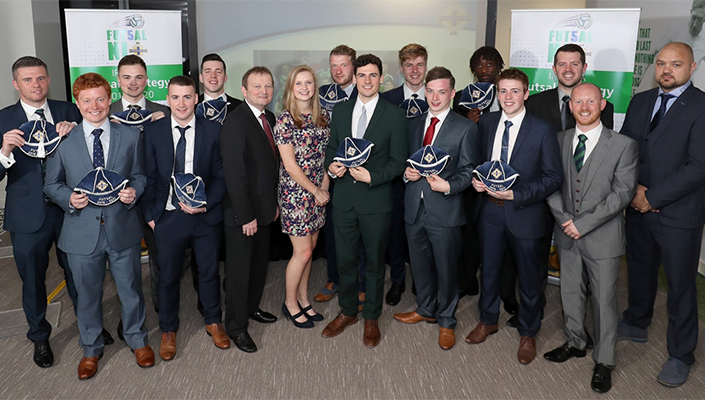 The Irish FA has presented international caps to Northern Ireland's first ever futsal squad. 
The players made history back in December when they made their bow at the Futsal Home Nations Championships.
At a caps presentation ceremony held at the National Football Stadium at Windsor Park both the achievements of the team and backroom staff were celebrated. And the event also highlighted the rapid development of the sport here in the past 18 months. 
Irish FA President David Martin presented the futsallers with their caps and also spoke about his pleasure observing the growth of the game. 
 He said: "The Irish FA encouraged the creation of a culture of futsal back in 2013 as documented in the association's corporate strategy. Subsequent youth and futsal strategies have served to embed the game of futsal into all future Irish FA development plans. Events like this highlight the progress that has been made and I look forward to the future development of the sport."
 Northern Ireland futsal head coach Jonathan Michael said: "It has been wonderful to recognise the achievements of the players. This group of players are pioneers for the sport in Northern Ireland and I hope that their experiences and influence will inspire many more to become involved in the game."
 Jonathan added: "I was proud at how well they performed in the Home Nations Championships in Cardiff last December and it has been encouraging to see them develop even further in training sessions over recent months. 
 "We are continuing to add players to the group and our focus is now on two friendly internationals against San Marino next month."
 For more information about futsal contact futsal@irishfa.com