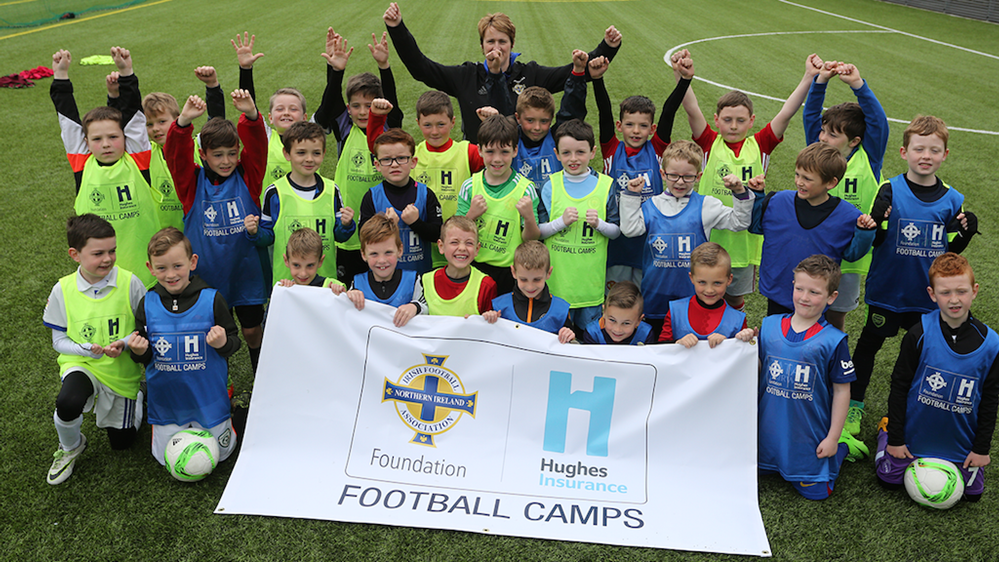 Hughes Insurance, one of Northern Ireland's leading local insurance brands, has signed a two-year deal to sponsor the Hughes Insurance Irish FA Football Camps until 2019.  
The new deal underpins Hughes Insurance's commitment to supporting youth football throughout Northern Ireland, building on its credentials as long term sponsor of the Hughes Insurance Foyle Cup in Derry – Europe's largest youth football tournament - and the Cross Community Cup, an ambitious annual youth tournament that celebrates 'Football for All' in the Belfast area and beyond.
Don Brennan, Head of Marketing, Strategy and Pricing at Hughes Insurance, commented: 'Hughes Insurance is proud to have a reputation of supporting youth sport throughout Northern Ireland.  We are hugely excited about the Hughes Insurance Irish FA Football Camps and the opportunity this gives us to interact with thousands of football loving families across the country."
The Hughes Insurance Irish FA Football Camps will take place three times a year across Easter, Summer and Halloween and operate on a huge scale – during the sponsorship period over 200 camps will be delivered, supporting 17,000 children aged between five and 13.  The relationship will also see Hughes Insurance become an official patron of the Education and Heritage Centre at the National Football Stadium at Windsor Park.
Don continued: "From our very first conversation with the Irish FA it became apparent that we shared the same values in terms of our commitment to youth sport in the community.  The scale with which the Irish FA delivers these camps is phenomenal and the growing popularity of the sport throughout the community made the opportunity very attractive." 
Oonagh O'Reilly, Director of Sales and Marketing at the Irish FA, said: "Hughes Insurance are a fantastic partner who have long established credentials in sports sponsorship.  We are already working with them on some very exciting activation plans and I have no doubt that this partnership will enhance the delivery of the Hughes Insurance Irish FA Football Camps. Our aim is to drive our 'Football for All' message and inspire young children across Northern Ireland to play the game and to dream of wearing the green shirt."
Photo Gallery: Boys and girls enjoy the Hughes Insurance Irish FA Football camps in Derry/Londonderry, Bangor and Belfast this Easter.