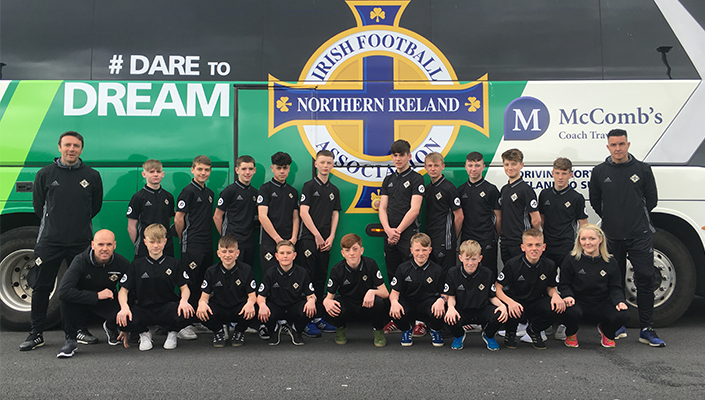 Players from JD Club NI have jetted off to Spain to take part in a major international youth football tournament.
The U14 side will initially face teams from Colombia, Israel and Spain in the annual Mediterranean International Cup, which attracts teams from around the world.
Organised by MIC Sports Services, and supported by La Liga, the tournament on the Costa Brava attracts club and national teams from U13 to U19 level. And it will feature 5000 players taking part in 596 matches in five days.
Games are played in 22 towns and 29 stadiums in the Costa Brava region. There will be more 250 teams representing 40 nations across five continents.
The JD Club NI team will be playing in the C class at the tournament (2003s) and they have been seeded in their group. They will initially face Colombian team Colegio Corazonistas, Catalonian side UE Rapitenca and Israeli outfit Maccabi Tel Aviv in Group N over the next couple of days.
If they progress from their group they could potentially face the likes of Barcelona, Manchester City, Atletico Madrid, Inter Milan, Porto or Celta Vigo in play-off games this weekend.
Gerard Boyle, the JD Club NI team's head coach, said the 17 players who have made the trip to Spain have been given the opportunity to play against some top teams from around the world.
He explained: "We have been seeded, which means we will be expected to get out of our group. JD Club NI teams have performed well at this tournament in the past and I'm sure we will give a good account of ourselves again."
Gerard is being assisted by Marty McCann. The Northern Ireland party also includes strength and conditioning coach Gary Wallace, goalkeeping coach Lee Rutherford and physiotherapist Linda Fettis.
Players including Lionel Messi, Cesc Fabregas, Gerard Piqué, Jordi Alba and Neymar to name a few have played in the Mediterranean International Cup, which is in its 17th year.
The JD Club NI U14 squad features: Charlie Allen, Joshua Archer, Daniel McIlroy, Conner Byrne, Reece Byrne, Oisin Conaty, Charles Anderson, Terry Devlin, Aaron Donnelly, Aidan Steele, Sean Stewart, Ronan Kalla, Ross McCausland, Orrin McLaughlin, George Tipton, Oran O'Kane and Liam Toman.  
 Image: The JD Club NI U14 squad which is competing in Spain over the next few days.