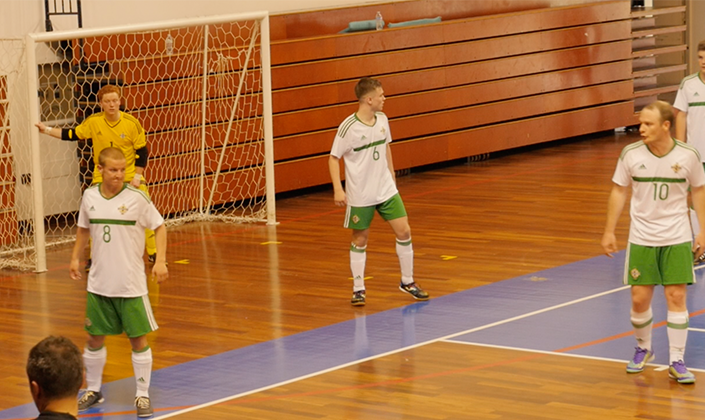 Northern Ireland played San Marino at the Multieventi Sport Domus Ore this evening in the first of two futsal international matches in two days. 
Goalkeeper Philip Irvine had an excellent performance for Northern Ireland and pulled off a number of early saves.
San Marino took the lead with a headed goal on eight minutes, with Irvine making a superb double save minutes later. 
Conor Glenholmes and Ciaran Donaghy both had shots as Northern Ireland attacked and it was the former who found the equaliser on 14 minutes.
However, Colombini Cristian showed great footwork before striking the ball into the net via a deflection to give San Marino a 2-1 lead going into the break.
Both sides had chances in the second half with Connor Millar and Johnny Gibson having notable shots on goal for the visitors.
Northern Ireland pushed for a second goal but found the home goalkeeper in inspired form, making numerous saves to help see out the match and claim a win for the hosts. 
Northern Ireland manager Jonny Michael said;
"Today's result is difficult to take for the players.  We dominated possession for long periods of the game and there is no question that we were the more positive team.  
"We created more chances and on another day the result could have been very different.  We can still take lots of positives from the match and I am confident this learning will impact on our performance tomorrow."
Northern Ireland face San Marino again tomorrow at the same venue, with kick-off at 6pm GMT.