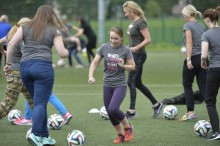 Almost 100 business women and men came together to hear from speakers Sara Booth, Women's Domestic Football Manager at the IFA, Oonagh O'Reilly, Director of Sales & Marketing, IFA and Roisin McFeely, Founder & Managing Director of Amazing Brains.
Hosted by sports journalist & Broadcaster, Denise Watson, each of the speakers took it in turn to share their experiences on how sport has helped them develop vision and focus, overcome challenges in business and succeed in what is still a predominately male dominated environment.
Encouraging women to have a steely determination to achieve their goals and to celebrate their successes, each speaker provided a unique set of lessons that can be applied not only in business, but in life.
Speaking about the event WIB Member, Ruth Mercer, Quality Manager at Hughes Insurance said:
"I really enjoyed all of the speakers. Their presentations reaffirmed there are many women in the marketplace with the same concerns and issues as me. It gives me the confidence to fight for my convictions and learn to recover from the "no's" knowing that I'm not on my own!"
Event speaker Sara Booth said: "It's amazing to see so many delegates attend this event and to champion the women who are succeeding in business today thanks to the skills and mind-sets that they have developed through sport. The Irish FA are delighted to be collaborating with Women in Business. It's a fantastic opportunity to promote what we do and to highlight the importance of the role of women and contribution that they make in all areas."
For more information on Women in Business events please visit the website at www.womeninbusinessni.com