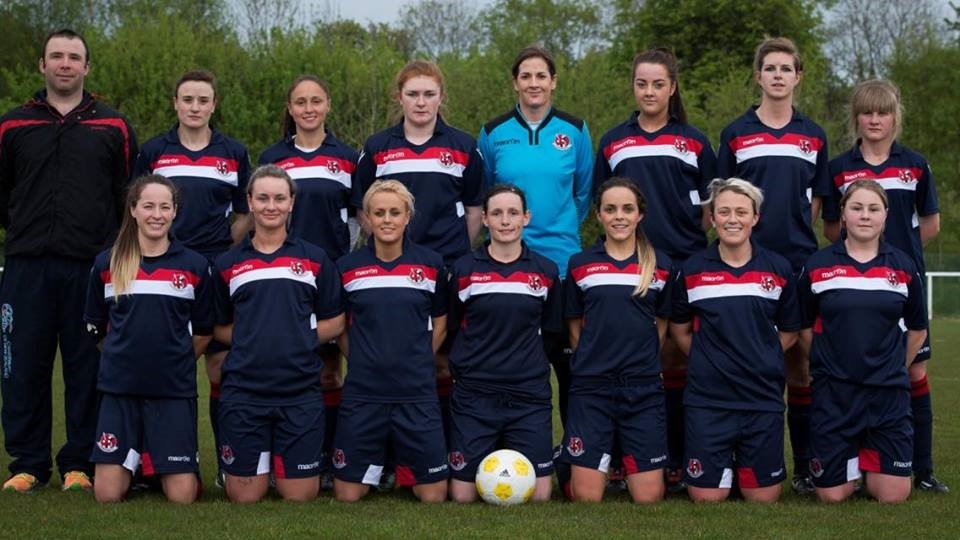 On Monday night, Cliftonville Ladies and Sion Swifts, and Coleraine Ladies and Crusaders Strikers, will battle it out for a place in the final of this season's Irish FA Women's Challenge Cup.
Mill Meadow, Castledawson will play host to the Cliftonville Ladies v Sion Swifts Ladies semi-final (kick-off: 7.30pm)
"The girls are really up for this after turning our season around over the past month, we are unbeaten in five and hoping to continue that run on Monday," said Cliftonville Ladies manager, Jo Smith.
"It will be a tough test against Sion who have knocked Linfield out of two cups in the past week so we aware of their threat but are confident that we can reach another final and hopefully get some silverware to finish off the season."
Cliftonville Ladies captain Tiarna McKenna added: "We see Monday as an exciting challenge for us.
"Both teams are in great form of late and I anticipate a fast game with both sides eager to play attacking football.
"Both sides have only met once in the first game of the season which ended in a home defeat for us.
"Our form however has changed of late and we are a team at present with plenty of confidence and belief.
"We would relish the opportunity to make this the second cup final we make it into this season!
"A revenge win is always sweet but to make it through to this final and add the opportunity of silverware to the mix would be a great achievement for not only our large squad of players, but our management and extended Reds family at Solitude."
Speaking ahead of tomorrow night's game, Sion Swifts manager Tony McGinley said: "Monday night will be our third IFA Cup semi-final, the first as a premier league team. We are hoping it will be third time lucky.
"We have done it the hard way beating Glentoran and Linfield in the previous rounds.
"The girls can take a lot of confidence from this and hopefully they can carry this into the game. Both teams are on a run of good form lately and this should provide an exciting semi-final."
Sion Swifts captain Kendra McMullan added: "This is the third time we have reached this stage of the IFA Women's Cup, we go into the semi-final off the back of some great results recently and all the girls are buzzing and confident.
"It would be an unbelievable achievement to reach two finals in our first year in the premier league, especially having knocked out the holders.
"We know Cliftonville are also on a good run of form so we will have to be at our very best to reach the final.
"We want to win for our coaching team, they have been dedicated and worked tirelessly to get us this far in such a short period of time."
Dixon Park, Ballyclare is the venue for the Coleraine Ladies v Crusaders Strikers semi-final (kick-off: 7.30pm)
Coleraine Ladies player/manager, Alison Nicholl said: "We are very excited to be in an Irish Cup semi-final. It will be a new experience for all of the girls and also to be playing against a team with such a history in the Irish Cup.
"We look forward to the challenge knowing that it is going to be very tough. Our young team can only learn from the experience."
Coleraine Ladies captain, Shairee Nicholl added: "The girls are looking forward to playing Crusaders, it will be a good experience for us as a team, we can be very proud to have got so far in the competition.
"If we can field a strong team hopefully we can go out and give a good account of ourselves, Comber was a tough match but the girls worked hard to get the results, no matter what the result will be on Monday as a captain I'm very proud of the girls and hope they enjoy the match."
Looking ahead to Monday night's game, Crusaders Strikers manager, Stephen Calvert said: "It's been two years since Crusaders have reached the IFA Women's Cup final, so we will be hoping to get through this tough test on Monday against Coleraine.
"We are looking forward to the semi-final, it will be a hard contest and we know Coleraine will give us a great game.
"Our girls will have to be on form to get the result needed to book our place in this year's final. Good luck to Coleraine and I hope the game is an exciting one for the supporters."
Crusaders Strikers captain, Danielle McDowell added: "We are very excited about the game on Monday, and hopefully a chance to turn our recent form around. The IFA Women's Cup is our last chance for silverware this season.
"Coleraine have played great to reach the semi-final stage so we will not take anything for granted, we know we're in for a tough, physical game.
"We will treat the game like a cup final and hopefully secure our place in the final round. Good luck to everyone involved."