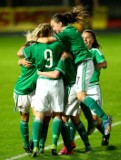 Hungary started things off at the Ballymena Showgrounds and it was the visitors who had the first chance of the game, Adrienn Olah's shot went sailing over the crossbar however.
The next chance of the game fell to Northern Ireland but Rebecca Basset skewed her shot just off target. This saw a period of pressure for Northern Ireland, resulting in two successive corners and sustained possession but Hungary managed to eventually clear the danger.
Hungary were awarded a dangerous free kick just outside the box leading up to the half, but it was easily dealt with by the impressive Lauren Currie in Northern Ireland's net.
Northern Ireland broke quickly and after a good counter attack, Megan Beattie forced a save from Leticia Anda.
The sides went into the break goalless after a good display from both teams' goalkeepers to keep it level.
The second half started in the same vain as the first with Hungary getting the first chance. However again Lauren Currie produced a good save, diving at the feet of Adrienn Olah to prevent her from opening the scoring.
It was Northern Ireland who took the lead after another good counter attack that saw Rebecca Basset escape down the wing before playing Katie Martin through on goal; she then smashed the ball into the top right hand corner to give Northern Ireland the lead.
Northern Ireland's goal sparked the Hungarian team into life and the lead lasted just four minutes, Anada Csanalosi produced a good finish from inside the box to level the tie.
Hungary were awarded another dangerous free kick but again Lauren Currie easily caught the ball and tried to set up a counter attack. The break however was obstructed by Adrienn Olah, resulting in the first card of the game.
With two minutes being added onto the game it looked as if it would end in a draw but a lucky break for Hungary saw Adrienn Olah score in the dying seconds to hand the Hungarians a 2-1 victory.