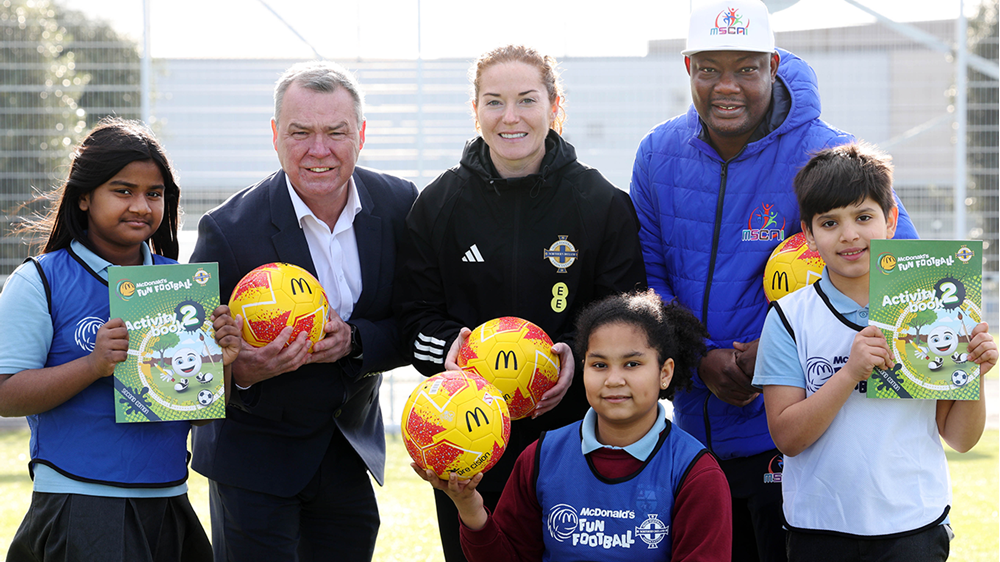 McDonald's, in partnership with the Irish Football Association, has launched its 2023 programme of Fun Football Centres across Northern Ireland.
Aimed at providing children aged five to 11 with the opportunity to try football for the first time, Fun Football sessions are free of charge and include a Fun Football Activity Book.  Designed and delivered in a safe, fun and pressure-free environment by Irish FA accredited coaches, the sessions include introductory activities perfect for kids who are new to the game, helping them to develop their all-rounds skill.
Parents are encouraged to register their children to one of the upcoming centres listed on the Irish FA's website, at www.irishfa.com/funfootball.
It's about making new friends, gaining new skills, and building confidence
Marissa Callaghan, Northern Ireland women's team captain and Fun Football Ambassador, said:"Fun Football Centres are a fantastic opportunity for young boys and girls to experience football for the first time together and, as I can testify, develop a lifelong love for the game.
"But it's about more than that; it's about making new friends, gaining new skills, and building confidence in a relaxed environment where every child is welcomed and encouraged. The fact that the sessions are completely free, especially during the ongoing cost of living crisis, is an amazing added incentive."
Fun Football Centres form part of the wider Fun Football programme, which is focused on improving accessibility to football for children and has seen McDonald's and the Irish FA partner with local charity Multi-Ethnic Sports and Cultures NI (MSCNI). Together, they will ensure every Fun Football coach is equipped with the knowledge and tools to help create inclusive environments for participants from all communities.
Irish FA President Conrad Kirkwood commented: "The Irish FA is committed to promoting, fostering and developing football for all and believes that everyone should have access to the game, regardless of age, gender, background, ability and disability.
"For this reason, we value our longstanding partnership with McDonald's immensely – with the Fun Football programme serving as a hugely important vehicle through which to make football truly accessible to all children right across Northern Ireland."
Jashwill Emmanuel BEM, chair of MSCNI, added: "At MSCNI, our mission is to encourage participation in sports within BAME (Black, Asian and minority ethnic) communities – supporting members and providing a safe space for children from different cultures and social backgrounds as well as encouraging greater cross-community cohesion.  This simply would not be possible without the tremendous support of organisations such as McDonald's UK and Ireland and the Irish FA. We are hugely encouraged by their collective commitment to improving accessibility to football for children."
As the longest-standing supporter of grassroots football in the UK, McDonald's recently doubled the size of its Fun Football programme, which will enable one million five to 11-year-olds across the UK to enjoy more than 10.5 million hours of free football coaching over the next four years.  
McDonald's Franchisee Paul Connan said: "We are exceptionally proud of the impact our Fun Football programme has on the lives of thousands of children across Northern Ireland every year. Through our continued partnership with the Irish FA and our exciting new relationship MSCNI, we will ensure that Fun Football is accessible to even more children, families and communities in the years ahead.
"We look forward to welcoming girls and boys to our Fun Football Centres throughout 2023 in the many local communities we are privileged to feed and foster across Northern Ireland."
For further information about the Fun Football Centres, visit www.irishfa.com/funfootball