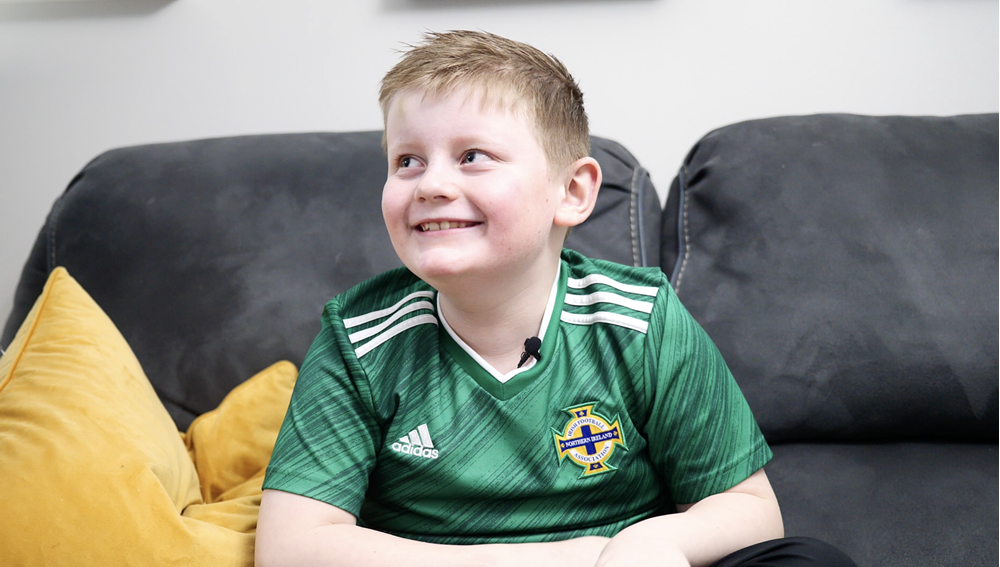 Ollie Dallas loves football. And his enjoyment of the beautiful game has grown even stronger as part of the Northern Ireland Cerebral Palsy junior team which plays in the Irish FA Foundation's Junior Disability League.
The eight-year-old from Cookstown was diagnosed with cerebral palsy when he was a toddler. He has left hemiplegia, which is paralysis on one side of the body that leads to poor muscle control, muscle stiffness and weakness.
After initially playing for a local club and finding the speed of the games too fast, Ollie attended a session with Northern Ireland Cerebral Palsy Juniors and never looked back.
He is now the focus of an Irish FA Foundation feature which tells his story and shows how much he is enjoying the game.
"When I played football for other teams, I found it difficult to keep up and to be as fast as other players," said Ollie.
His mum, Helen, also spoke about the positive impact the team has had on her son. 
"We felt like we had lost him in football and then we found this team and he is just a different child since he joined."
From participation to competitive matches in leagues and representing Northern Ireland in international competitions, the Irish FA Foundation's Cerebral Palsy football programme – part of its wider disability offering - has opportunities for ambulant players aged 7+. 
Irish FA Disability and Inclusion Manager Alan Crooks explained the importance of facilitating football activities such as Cerebral Palsy Juniors.
"Our disability football programmes create opportunities for individuals like Ollie to fulfil their potential," he said.
"By creating a space with qualified coaches, players feel more comfortable and encouraged to continue taking part in football. 
"As part of our Football for All strategy, we aim to increase the participation in football activities and develop pathways that enable players to excel in the sport that they love."
Cerebral Palsy Football is relaunching on Sunday 5 March at the Hanwood Centre in east Belfast with ages 7-14 at 1.30-3pm and ages 15+ at 1.30-3.30pm. 
For any queries on Cerebral Palsy football or other disability football programmes, please email Irish FA Foundation Disability and Inclusion Manager Alan Crooks: acrooks@irishfa.com