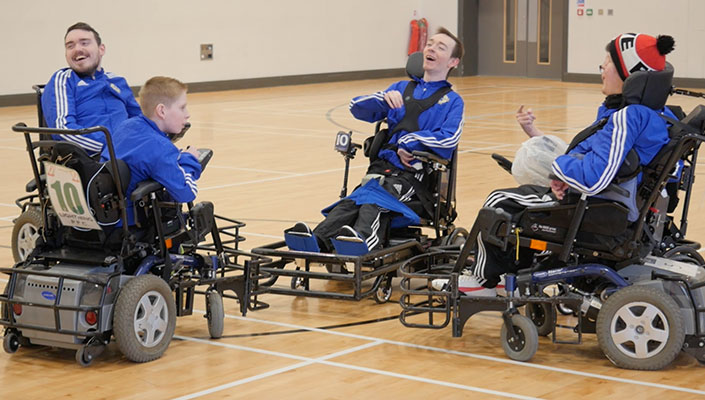 The Northern Ireland Powerchair Football Squad will take part in their first competitive fixtures this week as they travel to Kent, England to take part in the European Powerchair Football Associations (EPFA) Home Nations Event from 1 – 4 August 2017.
Formed in 2016, the Northern Ireland Powerchair Football Squad is made up of players from the two existing Powerchair Football Clubs in Northern Ireland, the Belfast Trailblazers and Lisburn Lightning.
Powerchair Football is a 40 minute, 4-a-side game, played by wheelchair users who get into specialist chairs to compete in this fast, action packed adaptation of the beautiful game.
Powerchair Football is a relatively new sport in Northern Ireland but with new clubs starting later this year in Dungannon and Enniskillen the sport is developing well with a bright future.
IFA Development Manager for Disability Football, Alan Crooks, explains more "Both existing clubs have been developing well, competing in the Association of Irish Powerchair Football (AIPF) League.
"The standard of play has been increasing as each season passes so the natural progression was to form an International Squad and compete through the EPFA Events.
"It will be great later in the year when Dungannon and Enniskillen are operating and we can get more players enjoying this exciting team sport for wheelchair users.
"This is our first competition but the coaches and players have been preparing for some time and I am sure it will be a great occasion and IT gives us the opportunity to test ourselves against the other Home Nations."
Northern Ireland will play hosts England at Sevenoaks School, Kent at 2pm on Thursday 3 August and the Republic of Ireland at 3pm with results determining the play-off schedule for 4 August.
Northern Ireland Powerchair Squad:
Jason Browning, 22, Belfast
Daniel Elliott, 21, Dromara
Kingston Bryars, 11, Portadown
Scott Hilland, 19, Newtownards
Conor O'Kane, 29, Portglenone
Carl McVeigh, 18, Belfast
If you or anyone you know is a wheelchair user and is interested in joining a Powerchair Football club please contact the clubs below:
Belfast Trailblazers – Girdwood Community Hub - Michael Hilland 07899936084
Lisburn Lightning – Lisburn Leisureplex – Alan Browning – 07790861751
Hot Wheels – Torrens Complex, Donaghmore, Dungannon – Sarah Little – 07901816019
Devenish Warriors – Lakeland Forum – Joe Graham – 07784587920.