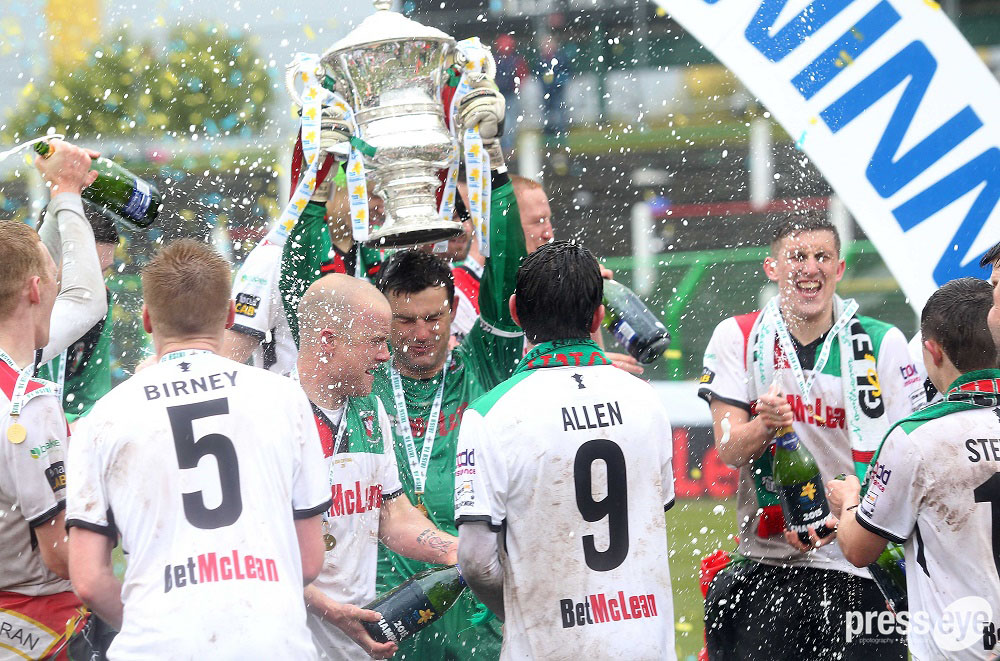 The unfavourable and unseasonal weather conditions were hardly conducive for good football and so it proved in a first half of few chances.
Portadown could point to a 24th minute Garry Breen effort, albeit a chance that was blocked, but the Glens created the best of what little opportunities that were created.
David Scullion came close with a 25th minute 30-yard drive just over while, a short time later, Barry Holland also fired too high.
Early in the second half Calum Birney tested Portadown 'keeper David Miskelly with a header straight into his hands.
But the game livened up on 54 minutes. Amid Portadown claims that Michael Gault was upended by William Garrett as he raced onto a short backpass Glentoran broke at the other end with Jordan Stewart combining with Scullion for the latter to fire low into the bottom corner.
On 64 minutes, with both sides showing a bit more urgency, the Ports had an opening which ended with Robert Garrett firing well over from distance when perhaps the better option might have been to lay the ball off to Sean Mackle down the right flank.
Curtis Allen might have doubled Glentoran's lead after getting on the end of a flick into the area and beating Keith O'Hara to the ball only to hook his effort just past the far post.
Portadown boss Ronnie McFall made the first substitution of the game on 72 minutes when Darren Murray replaced Mark McAllister and it was a move that almost paid immediate dividends when Murray's long throw into the area was headed goalbound by Breen only to be met by Elliott Morris acrobatically tipping the ball over for a corner.

But Glentoran took control of the closing stages, expertly running the clock down and doing enough to secure the Irish Cup for the 22nd time in their history.
Glentoran: Morris, Garrett, Kane, Birney, McAlorum, Holland, Henderson, Gordon, Stewart, Allen, Scullion subs McCaffrey (replaced Scullion 89), Hogg (not used), Addis (replaced Henderson 89), Nelson (replaced Stewart 90+3), McKee (not used)
Portadown: Miskelly, Casement, Redman, O'Hara, Breen, McMahon, Mackle, McAllister, Gault, Twigg, Garrett subs Brennan (not used), Ramsey (not used), Murray (replaced McAllister 72), Conaty (not used), Lyttle (not used)