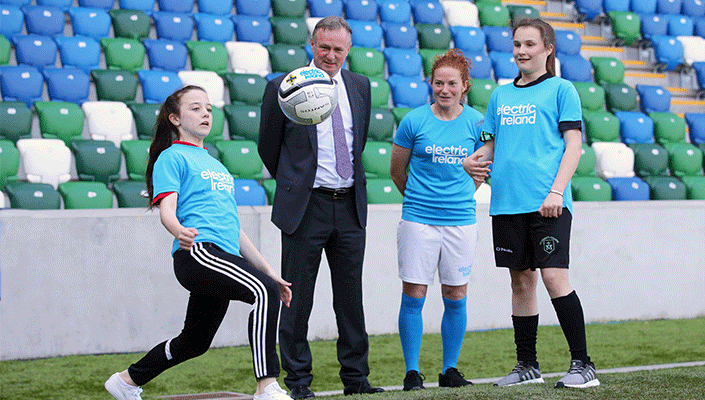 The Irish Football Association has invested heavily in the development of girls' and women's football in the last ten years and now with the addition of Electric Ireland as the official partner for Women and Girls' Football, our aim is to continue increasing the number of players participating in the game.
With four full-time members of staff (three in development and a National Women's Coach) the key activities of the department include the following areas:
Grassroots Football
The IFA currently deliver over 20 programmes in partnership with local councils, Active Communities coaches, DENI Primary School coaches and local clubs.
Primary Schools
The association has a network of 27 DENI Primary School coaches that work with 250 schools and provide football to approximately 8,000 girls each year through the Curriculum Sports Programme.
Post Primary Schools' Football – supported by Electric Ireland
Super Schools' Festival – supported by Electric Ireland
This has been an annual event for the past two years, over 1000 school girl's travel to Mallusk Playing Fields in June of each year to compete in a 7 aside competition.
Indoor Cup – supported by Electric Ireland
Played as five aside regional qualifying tournaments the event concludes with the National Finals in November each year
Electric Ireland Schools' Cup: Senior Competition
Played as an eleven aside knockout competition, with the final being played on Finals Day alongside the Junior Cup.
Electric Ireland Schools' Cup: Junior Competition
Played as eleven aside knockout competition, with the final being played on Finals Day alongside the Senior Cup.
Schools, Junior
Football seven-a-side round-robin days played between local schools.
Domestic Football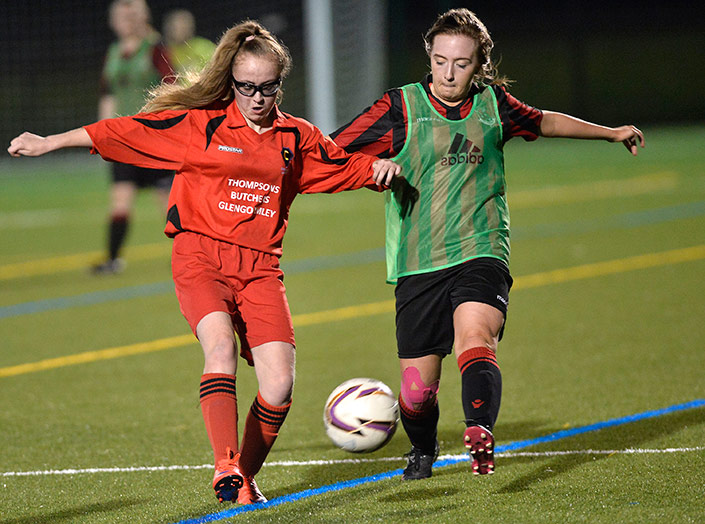 Club football in Northern Ireland is divided into two separate areas, namely, junior and senior and is organised under the auspices of the NIWFA (www.niwfa.org). Senior football organised into six leagues including:
Premier League
Championship
North 1
South 1
North 2
South 2
The winners of the Premier League each year represent Northern Ireland in the UEFA Women's Champions League.
Centres of Excellence
The Centres of Excellence provide 160 girls aged 11 - 15 years of age with quality coaching on a county basis. These players are identified from a number of sources including schools' football, junior football and the NIWFA clubs. In total the players receive a minimum of 24 weeks of coaching coordinated by the National Women's Coach and appropriate IFA staff.
International Football
At international level there are teams at senior, under 19, under 17 and under 15 (Development Squad) levels. All teams participate in international fixtures and competitions.
Senior team
The senior women's team recently started their UEFA 2017 European Qualifying Campaign and are currently ranked 66th in the world.
Under 17 & Under 19 Squads
The under 17 & 19 teams have recently qualified for the elite rounds of the UEFA European Women's Championships. These elite rounds will take place in March and April of 2016.
Under 15 Development Squad
The under 15 development squad compete in the Bob Docherty tournament every year. The upcoming tournament will take place in April 2016 when the girls will travel to Wales.
For information about girls' or women's football please do not hesitate to contact: