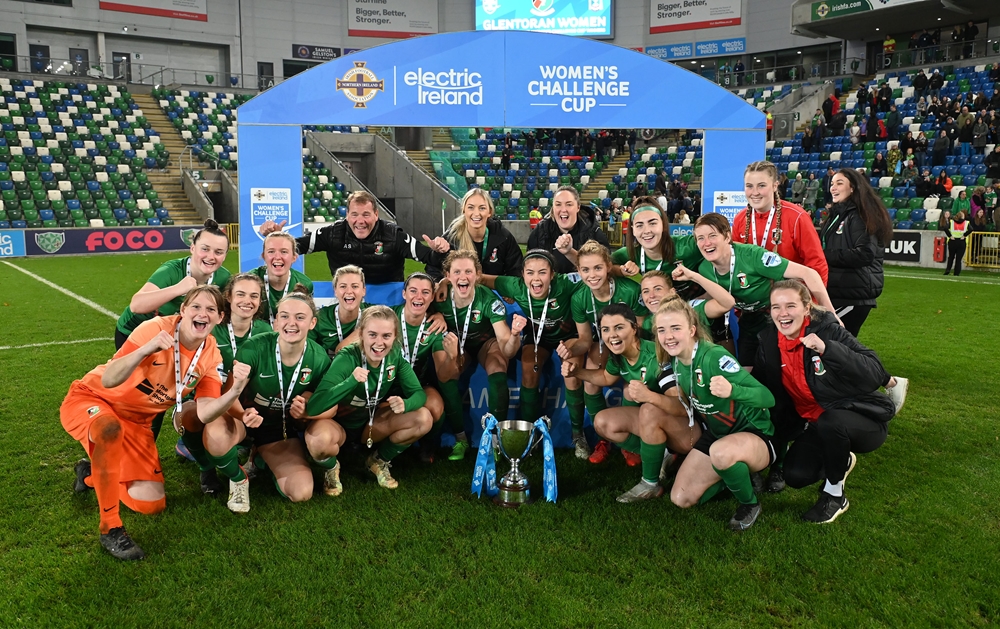 First contested in 2005, the IFA Women's Cup is Northern Ireland's premier competition for women's football teams.
Glentoran Women (previously Glentoran Belfast United) are the most successful side in the competition, having won it ten times, with Linfield Women (previously Linfield Ladies) the next most successful with three victories.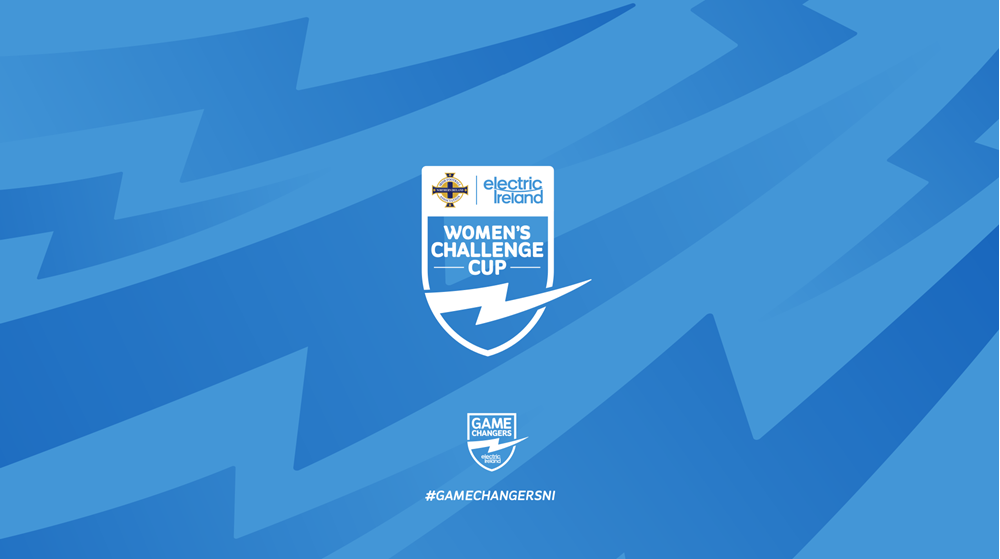 Their most recent success came in 2022 thanks to a 2-1 win over Sion Swifts Ladies in the decider at the National Football Stadium at Windsor Park, making it four Electric Ireland Women's Challenge Cup triumphs in a row.
Winners over the previous 10 seasons have included:
Glentoran Women (2022) Glentoran Women (2021), Glentoran Women (2019), Glentoran Women (2018), Sion Swifts Ladies (2017), Linfield Ladies (2016), Cliftonville Ladies (2015), Linfield Women (2014), Linfield Women (2013), Glentoran Belfast United (2012).
Semi-Finals
v
P
P
AET ({{fixture.homePenaltyScore}} - {{fixture.awayPenaltyScore}}) penalties
{{fixture.compName}} {{getType(fixture)}}
{{fixture.dateFormatted2}}, {{fixture.timeFormatted}} Kick Off Time TBC at {{fixture.stadium}}
Quarter-Finals
v
P
P
AET ({{fixture.homePenaltyScore}} - {{fixture.awayPenaltyScore}}) penalties
{{fixture.compName}} {{getType(fixture)}}
{{fixture.dateFormatted2}}, {{fixture.timeFormatted}} Kick Off Time TBC at {{fixture.stadium}}
Second round
v
P
P
AET ({{fixture.homePenaltyScore}} - {{fixture.awayPenaltyScore}}) penalties
{{fixture.compName}} {{getType(fixture)}}
{{fixture.dateFormatted2}}, {{fixture.timeFormatted}} Kick Off Time TBC at {{fixture.stadium}}
First Round
v
P
P
AET ({{fixture.homePenaltyScore}} - {{fixture.awayPenaltyScore}}) penalties
{{fixture.compName}} {{getType(fixture)}}
{{fixture.dateFormatted2}}, {{fixture.timeFormatted}} Kick Off Time TBC at {{fixture.stadium}}
Note: Lisburn Rangers Ladies v. Donegal Celtic Ladies - Donegal Celtic Ladies withdrew, Lisburn Rangers Ladies progress to round two

Ballyclare Comrades Ladies v. Belfast Ravens - Belfast Ravens withdrew, Ballyclare Comrades Ladies progress to round two
Preliminary round
v
P
P
AET ({{fixture.homePenaltyScore}} - {{fixture.awayPenaltyScore}}) penalties
{{fixture.compName}} {{getType(fixture)}}
{{fixture.dateFormatted2}}, {{fixture.timeFormatted}} Kick Off Time TBC at {{fixture.stadium}}
In pictures: 2022 Electric Ireland Women's Challenge Cup final
Electric Ireland Women's Challenge Cup rules 2022