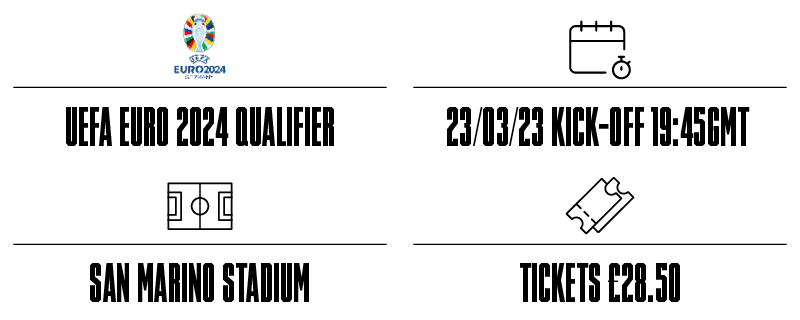 Northern Ireland's first away fixture of the UEFA Euro 2024 Qualifiers will see Michael O'Neill's side play San Marino in San Marino Stadium on Thursday 23 March.
Priority expression of interest for match tickets was open for lead bookers exclusively up to 10am on Thursday 26 January and 10am to midnight on Thursday 26 January for non Campaign Package holders. It is expected that tickets will be available to purchase middle to late February.    
Tickets are priced at £28.50. Tickets at a lower price may also be allocated should tickets in this section sell out. These tickets will be priced at £23.50 and cannot be specifically requested.
You will receive a ticket update by email approximately one week after the expression of interest closes. If your expression of interest is successful you will be requested to supply the full name, email address and DOB of each supporter you are purchasing tickets for.
Tickets cannot be transferred to other supporters. 
Queries in relation to this fixture should be sent by email to tickets@irishfa.com  
Please note: information is subject to change and supporters are advised to check this page regularly for updates.