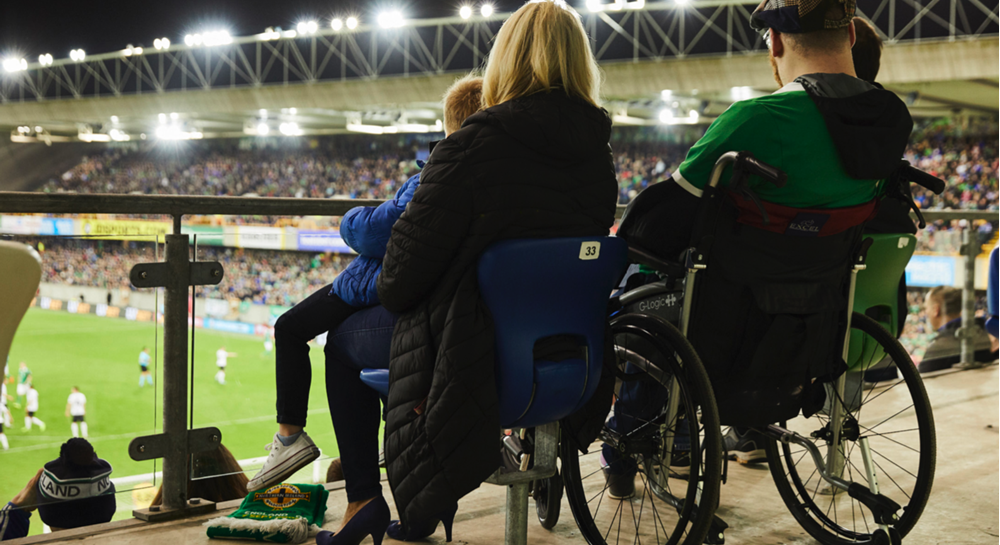 The National Football Stadium at Windsor Park has been designed to ensure that all visitors, including those with disabilities, enjoy an unrivalled match day experience.
The guiding principle for the stadium is that visitors with disabilities are accommodated at all levels and areas throughout the stadium and have the necessary facilities available to meet their needs.
You can complete an accessible ticket request for our upcoming senior men's and women's matches at the National Football Stadium at Windsor Park. Please follow the links below to make a request. 
Wheelchair-accessible areas
The National Football Stadium now offers fans 133 wheelchair-accessible spaces and an equal number of adjacent seats for essential companions which are complimentary.
Wheelchair-accessible areas are located in the upper level of the Grafton Family Stand, in the South Lower Stand and the South Upper Stand. All areas are accessed via lifts. Accessible toilet facilities are available next to each area.
In addition, all corporate lounges and corporate boxes are wheelchair-accessible.
Ambulant seating
For individuals who do not require a wheelchair but who may have mobility needs, a number of ambulant seats are available in the South and Grafton Family Stands.
All ambulant seats offer step-free access, with entrances via lifts or the ground floor concourse. In addition, individuals who require an essential companion can request a complimentary seat.
Quiet Room
We understand supporters who have a developmental disability such as autism may benefit from an area more suited to their needs.  We are currently trialling a quiet room in the stadium. This room provides a quiet and private space overlooking the pitch and can facilitate up to 5 tickets, one of which will be a complimentary essential companion ticket. 
Visually Impaired
Supporters who are visually impaired can sit in all areas of the stadium. Those who are visually impaired can apply for a complimentary essential companion ticket. Match commentary headsets are also provided by Soccer Sight and can be applied for ahead of the fixture when completing the form. Guide dogs are also welcome at the National Football Stadium at Windsor Park. 
Hearing Impaired
Supporters with a hearing impairment can apply for seating within the North stand to allow for full view of the big screen which will have important match / goal messages in sign language. Those with a hearing impairment can apply for a complimentary essential companion ticket.   
Stewarding
A significant number of stewards have undertaken specific disability awareness training and are deployed to appropriate locations within the Stadium in order to make your match night experience better.
Parking
There are limited spaces available for accessible parking. These parking spaces can be requested when applying for your match tickets.
Accessibility Buggy
An accessibility buggy will now be in operation for Senior men's International matches.  This will be located at the entrance to the South Stand on Boucher Boulevard and will be available form 1.5 hours prior to Kick Off.  It can carry a maximum of 3 passengers at a time. This service cannot be pre-booked and will operate on a first come first served basis.
Application for Accessible Tickets
In order to request an accessible ticket where an essential companion is required, please complete the application form when it becomes available. 
Those wishing to apply for wheelchair accessible tickets, must be largely dependent upon a wheelchair, be registered disabled or where the dependency on a wheelchair is temporary, they must be able to provide proof in the form of a doctors or hospital letter confirming this.
Please attach any relevant documentation relating to your application, e.g. a copy of a letter from your doctor/consultant regarding your disability. Or proof that you receive a disability benefit, such as PIP or DLA. Blue Accessible Parking badges are not accepted.
Tickets will be allocated on a first-come, first-served basis and will go on sale at the same time as General Admission tickets.
An essential companion must be capable of supporting the needs of the accessible ticket holder throughout the fixture and in the event of an emergency and therefore the essential companion should not be a junior. 
Information relating to accessibility tickets for away fixtures will be available on a match-by-match basis.
If you have any queries or wish to discuss individual requirements, please do not hesitate to contact dao@irishfa.com or tickets@irishfa.com.