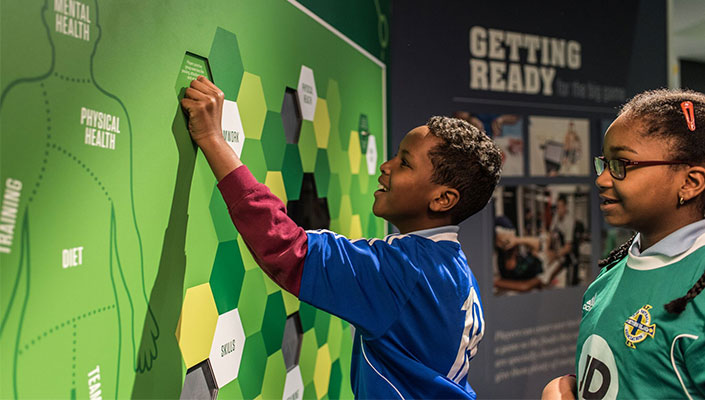 The Irish Football Association welcome school and educational visits to the Education and Heritage Centre.
The EHC will be used to educate, inspire and empower the next generation of football and sports fans whilst passing on the knowledge and events of our past.
The centre will use interactive displays, personal stories, infographics and historical artefacts to provide an ideal learning environment which is sure to capture the imagination and interest of visitors.
Pricing and info
School groups are charged at £4 per pupil with teachers going free. This includes entrance to the Education and Heritage Centre as well as a guided tour of the stadium.
How to book
If interested in booking a school or educational visit to the Stadium please contact Stephen Garrett via sgarrett@irishfa.com or 02890669458
Available workshops
The Irish FA can offer a number of educational workshops as part of your visit to the National Stadium*. 
- Show Racism the Red Card
- Football For All
- Nutrition
- Volunteering and pathways to employment
- A history of sport in Northern Ireland 
*Subject to availability