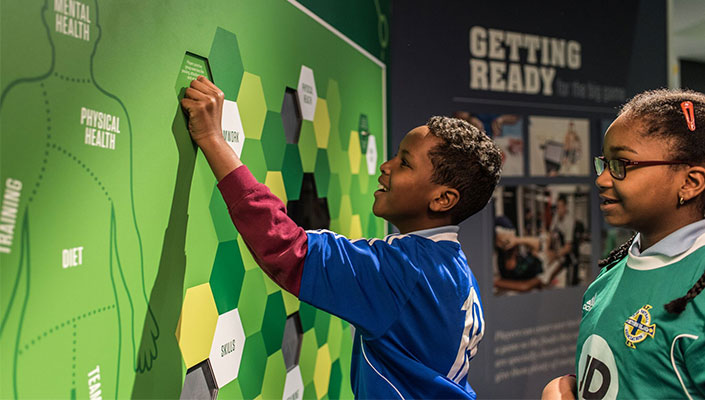 Education and Schools Visits
Filled with interactive exhibits, one of a kind pieces of memorabilia and a behind the scenes stadium tour, a visit to Irish FA Tours will help inspire the next generation of football fans.
As part of our partnership with safefood, we are delighted to offer free nutrition workshops to a limited number of visiting schools, which will focus on the benefits of healthy eating habits as part of an active lifestyle. If interested, please ask our Irish FA Tours Team for more information. Check out what our visitors had to say:

Mr McKay - Killyman PS - "What an amazing tour, lots of information given and the kids had a ball. For a class that is full of budding footballer's boys and girls alike this was a great opportunity for them to see our national stadium, for them to experience sitting in the changing room, to walk the tunnel out to the pitch and what is like to be in the stands as a supporter.  

"We were even lucky enough to catch a glimpse of the women's team doing some training. They had great fun in the interactive centre, hearing the history of the club, taking penalties, making tackles and seeing all the memorabilia. I would highly recommend this for any families, groups or those looking for something to do in Northern Ireland, well worth the visit."
Information and pricing:
£4 + VAT PER CHILD TEACHERS GO FREE
The two hour visit includes a guided stadium tour and admission to the Education and Heritage Centre.
For more information email tours@irishfa.com
The two hour visit includes a guided stadium tour and admission to the Education and Heritage Centre.
Add an educational workshop to your visit:
• SHOW RACISM THE RED CARD
• FOOTBALL FOR ALL
• NUTRITION
• VOLUNTEERING AND PATHWAYS TO EMPLOYMENT
• 'HERITAGE IN A BOX' – THE HISTORY OF THE IFA
*additional cost for workshop 
Virtual Workshops
Alternatively, as we continue to return to normal, why not book your call in for a virtual stadium tour. Our 45-minute sessions are informative and engaging, offering an opportunity to immerse yourself in the beautiful game and history of the Irish FA all from the comfort of your classroom.
The cost per group session is £75 + VAT (Group size up to 30 people)
Sessions are run on Zoom or MS Teams. 
How to book
To book or for more information contact tours@irishfa.com