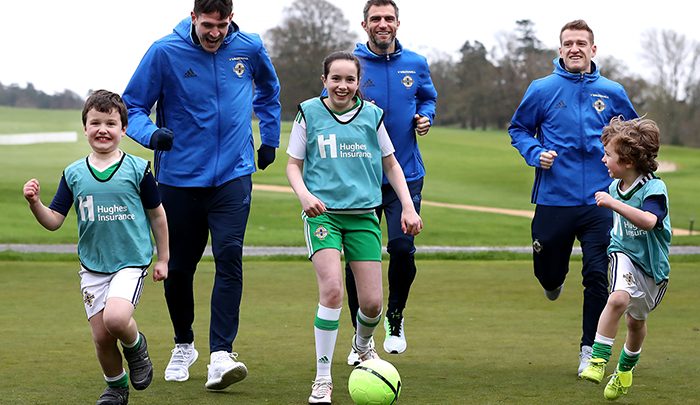 Applications will soon be live for the Hughes Insurance Irish FA Halloween Football Camps which will be held in over 26 locations across Northern Ireland.
The 2 day camps will take place at the end of October and start of November following on from record participation figures in 2016, which saw over 8,400 children take part. Camps are open to children aged between 5 and 13 years of age.
See below for costs when booking online:
1 child: £15
2 children: £25
3 children: £35
*** add £10 per extra child after 3 children ***
*** If paying offline the price will be £20 per child ***
Schedule of each day
Registration
ball mastery and turns
dribbling
passing
shooting
1v1, 2v2 defending and attacking
running with the ball
Small Sided Games
Cool Down
Why join and what you get for attending!
Two days of top class coaching
Guaranteed fun and enjoyment
Make new friends
Test your football skills
Adidas football
Hughes Sports Bottle
What to bring
In a country that can have four seasons in one day, it's best to be prepared for all eventualities.
Please bring the following items:
Astro turf trainers / football boots appropriate to playing surface
Shin guards
Rain jacket
Healthy snacks / light lunch
A bottle of water (please avoid energy drinks)
Any medication that you might need
Sun cream/medication (Please note we cannot administer any sun cream)
A smile and eagerness to enjoy yourself!