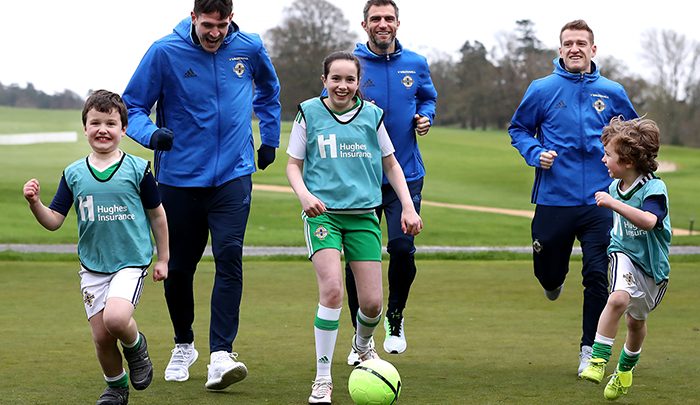 Applications are now live for the Hughes Insurance Irish FA Summer Football Camps which will be held in locations across Northern Ireland.
The 5 day camps will take place throughout July and August following on from over 8,000 children attending the camps in 2017.
See below for costs when booking online:
1 child: £40.00
2 children: £70.00
3 children: £90.00
4 children: £110.00
*** If paying offline the price will be £45 per child ***
What to bring?
- Healthy packed lunch
- Bottle of water
- Football boots or trainers (depending on surface)
- Shin guards
- Rain coat
- Sun cream
- Any medical requirements (e.g. Inhaler, EpiPen etc.)
What you receive?
- 5 days top class coaching
- Opportunity to learn new skills
- Opportunity to have fun and make new friends
- Adidas Telstar 2018 World Cup football
- Hughes Insurance frisbee

Summer Football Camps 2018:
Mid Ulster Sports Arena (1)     2nd-6th July     10am-1pm
Castlecaulfield 3G     23rd-27th July     10am-1pm
Moyola Park     30th July-3rd Aug     10am-1pm
Mid Ulster Sports Arena (2)     6th-10th Aug     10am-1pm
Meadowbank Sports Arena     13th-17th Aug     10am-1pm
Backrow 3G, Draperstown     20th-24th Aug     10am-1pm
Orangefield Park (1)     2nd-6th July     10.30am-1.30pm
Cherryvale Playing Fields (1)     16th-20th July     10.30am-1.30pm
Orangefield Park (2)     30th July-3rd Aug     10.30am-1.30pm
Cherryvale Playing Fields (2)     6th-10th Aug     10.30am-1.30pm
Orangefield Park (3)     13th-17th Aug     10.30am-1.30pm
Our Lady of Lourdes, Ballymoney     2nd-6th July     10.30am-1.30pm
Scroggy Road, Limavady     2nd-6th July     10.30am-1.30pm
McCamphill Park, Dunloy     16th-20th July     10.30am-1.30pm
Bushmills P.S.     23rd-27th July     10.30am-1.30pm
Quay Road Playing Fields, Ballycastle     23rd-27th July     10.30am-1.30pm
Score Soccer, Coleraine     6th-10th Aug     10.30am-1.30pm
St. Conor's College, Kilrea     6th-10th Aug     10.30am-1.30pm
Glens Youth Club, Cushendall     13th-17th Aug     10.30am-1.30pm
Portstewart F.C.     20th-24th Aug     10.30am-1.30pm
Rathmore Grammar School (1)     2nd-6th July     10am-1pm
Ballysillan Leisure Centre (1)     30th July-3rd Aug     10am-1pm
Rathmore Grammar School (2)     6th-10th Aug     10am-1pm
Ballysillan Leisure Centre (2)     13th-17th Aug     10am-1pm
Rathmore Grammar School (3)     20th-24th Aug     10am-1pm
People's Park, Portadown     2nd-6th July     10am-1pm
Kernan Playing Fields, Craigavon     23rd-27th July     10am-1pm
Loughgall Country Park     6th-10th Aug     10am-1pm
Lurgan Town Arena     20th-24th Aug     10am-1pm
Newtownstewart Primary School     2nd-6th July     10am-1pm
St Columb's College, Derry     9th-13th July     10am-1pm
Castlederg High School     16th-20th July     10am-1pm
Foyle Arena, Derry     23rd-27th July     10am-1pm
Melvin Leisure Centre, Strabane     30th July-2nd Aug     11am-3pm
Bangor Aurora (1)     2nd-6th July     10am-1pm
Holywood, Spafield (1)     2nd-6th July     10am-1pm
Bangor Aurora (2)     6th-10th Aug     10am-1pm
Holywood, Spafield (2)     20th-24th Aug     10am-1pm
Paisley Park     2nd-6th July     10.30am-1.30pm
YMCA, Knightsbridge Road     30th July-3rd Aug     12pm-3pm
Ballymena Showgrounds (1)     2nd-6th July     10am-1pm
Carnlough Swifts     16th-20th July     10am-1pm
Beltoy, Carrickfergus     23rd-27th July     10am-1pm
Clough Playing Fields     6th-10th Aug     10am-1pm
Sandy Bay, Larne     6th-10th Aug     10am-1pm
Whitehead F.C.     13th-17th Aug     10am-1pm
Ballymena Showgrounds (2)     20th-24th Aug     10am-1pm
Loughmoss, Carryduff (1)     2nd-6th July     10am-1pm
Ballymacash Rangers F.C., Lisburn     16th-20th July     10am-1pm
Moira Demense     23rd-27th July     10am-1pm
Hillsborough Village Centre     13th-17th Aug     10am-1pm
Loughmoss, Carryduff (2)     20th-24th Aug     10am-1pm
Crossgar Playing Fields (1)     2nd-6th July     10am-1pm
Donard Park, Newcastle     2nd-6th July     10am-1pm
Crossgar Playing Fields (2)     23rd-27th July     10am-1pm
Annalong F.C.     30th July-3rd Aug     10am-1pm
Downpatrick Leisure Centre     6th-10th Aug     10am-1pm
Crossgar Playing Fields (3)     13th-17th Aug     10am-1pm
The Links, Strangford     20th-24th Aug     10am-1pm
Lakeland Forum, Enniskillen (1)     2nd-6th July     10am-1pm
Omagh Leisure Centre (1)     16th-20th July     10am-1pm
Lakeland Forum, Enniskillen (2)     13th-17th Aug     10am-1pm
Castle Park, Lisnaskea     20th-24th Aug     10am-1pm
Omagh Leisure Centre (2)     27th-31st Aug     10am-1pm
Threemilewater, Newtownabbey (Grass)     2nd-6th July     10am-1pm
Ulster University, Jordanstown (3G)     16th-20th July     10am-1pm
Ballyclare Rugby Club (Grass)     13th-17th Aug     10am-1pm
Valley Leisure Centre (3G)     20th-24th Aug     10am-1pm
Olympia Leisure Centre (1)     13th-17th Aug     10am-1pm
Olympia Leisure Centre (2)     20th-24th Aug     10am-1pm