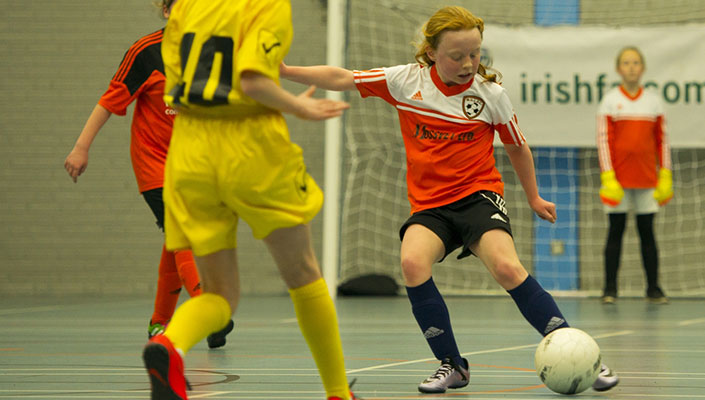 Futsal Strategy Grassroots Development Objectives
Engage Schools, Colleges, Universities, Councils and Community facility providers to adapt their halls to facilitate Futsal. Ensuring one futsal facility in every town and city in Northern Ireland by 2020.
Over 2,000 school children, boys and girls, in Primary and Post Primary Schools participating in Irish FA Futsal festivals and competition every year.
2,000 registered Youth Futsal Players playing in Irish FA Futsal Development Centres by 2020 (25% of all players being female).
2,000 registered Youth Futsal Players playing in Irish FA Schools and College's Futsal Development Leagues by 2020 (25% of all players being female).
Futsal is a fun, enjoyable and exciting game. Futsal is a sport in its own right and does not have to compete with football, but can serve as a supportive tool.  Futsal is widely considered to be valuable in the development of young players to assist them in becoming more technically proficient.  Tactically, the game is directly transferable to football and Futsal provides players with numerous opportunities to practice the principles of attacking and defending.
Irish FA Football Development staff will offer a variety of events and competitions that will provide school children with opportunities to be introduced to the game of Futsal.  These participation opportunities will lead to the development of Post Primary School and College development leagues for both girls and boys.
Futsal will be introduced within all of Northern Ireland's Universities.  Sports Unions will be engaged to establish male and female Futsal clubs and the Irish FA will facilitate an annual University competition.  Further development of University Futsal will lead to the inclusion of Northern Ireland representation in BUCS Futsal competitions for both males and females.
Futsal is a perfect alternative to football in the winter months when outdoor matches are regularly cancelled due to inclement weather.  The Irish FA will introduce Futsal as a programme for grassroots club players during times of bad weather and/or as part of structured pre season.  Players participating in Irish FA Games Development Centres will be provided with opportunities to increase their active season and use the time that would be sacrificed to poor weather.
The Irish FA will establish Under 18, Under 16, Under 14 and Under 12 boys regional leagues to increase contact time and create an environment that encourages positivity, creativity and technical competence.  Female regional leagues will also be created at Under 17, Under 15, Under 13 and Under 11 as part of a enhanced preseason and provide an increase in competition opportunities.
Futsal will have a positive impact on recreational participation. Historically the Irish FA has not documented recreational participation in indoor football or been involved in the development of recreational players amongst indoor football.  Futsal therefore offers the Irish FA a new development opportunity to provide structured recreational programmes across Northern Ireland and in the process achieve increased participation objectives set by UEFA as part of their Charter Mark. This is particularly important for the age range of 16 to 25 which has been identified as the highest drop out point.  
Futsal can also increase participation opportunities for senior players to encourage lifelong involvement in sport and physical activity. Futsal can be a viable alternative to football for those that can no longer play competitively or for those that wish to play recreationally.  
The Irish FA will work with local authorities to ensure that every leisure centre in Northern Ireland that has an indoor hall receives Futsal goals and Futsal balls. The Irish FA will work with these facilities to provide court markings. The Association will also work with independent facility providers, community groups and education facilities to develop suitable Futsal facilities to be used for training sessions, events and competitions.
The implementation and success of "Game Changer" will be represented in the changed landscape of indoor football across Northern Ireland. The replacement of traditional 5-a-side goals, rebound walls and bouncy yellow footballs with Futsal equipment will represent a change in culture and the cementing of Futsal in Northern Ireland. In order to assist with this process the Irish FA will commit to providing Futsal goals for 50 facilities across Northern Ireland in 2016.
Boys Post Primary Futsal National Finals (2016)
Girls Post Primary Futsal National Finals (2016)