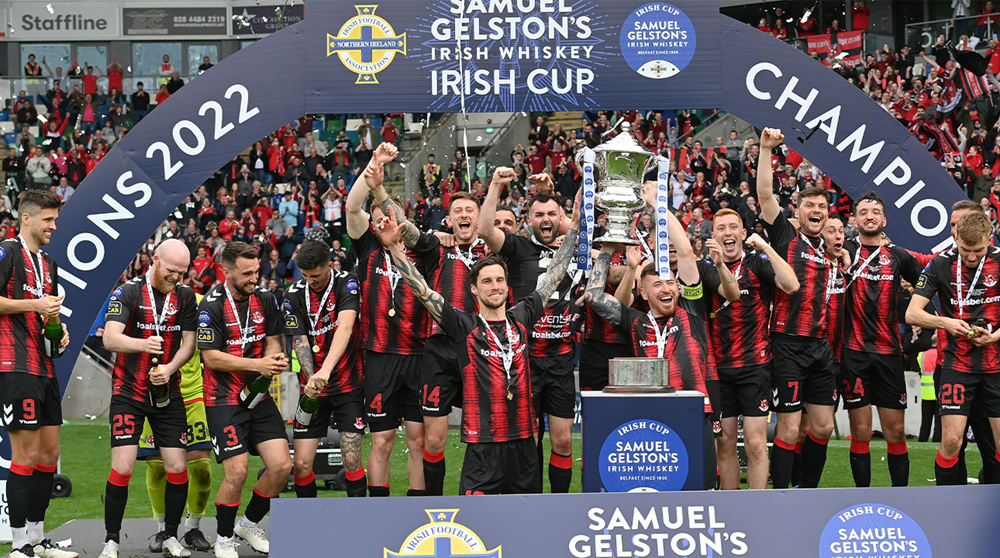 First contested in 1881, the Irish Cup is the fourth oldest national cup competition in the world.

Current holders Crusaders defeated Ballymena United 2-1 after extra-time in May 2022 thanks to goals from Josh Robinson and Johnny McMurray.

Linfield are the most successful team in the history of the competition, having won it 44 times and finishing runners-up on a further 21 occasions.
Winners over the past 10 seasons:

2021/22 - Crusaders
2020/21 - Linfield
2019/20 - Glentoran
2018/19 - Crusaders
2017/18 - Coleraine
2016/17 - Linfield
2015/16 - Glenavon
2014/15 - Glentoran
2013/14 - Glenavon
2012/13 - Glentoran
Samuel Gelston's Whiskey Irish Cup 22-23
Semi-final fixtures
v
P
P
AET ({{fixture.homePenaltyScore}} - {{fixture.awayPenaltyScore}}) penalties
{{fixture.compName}} {{getType(fixture)}}
{{fixture.dateFormatted2}}, {{fixture.timeFormatted}} Kick Off Time TBC at {{fixture.stadium}}
Quarter-final results
v
P
P
AET ({{fixture.homePenaltyScore}} - {{fixture.awayPenaltyScore}}) penalties
{{fixture.compName}} {{getType(fixture)}}
{{fixture.dateFormatted2}}, {{fixture.timeFormatted}} Kick Off Time TBC at {{fixture.stadium}}
Sixth Round results
v
P
P
AET ({{fixture.homePenaltyScore}} - {{fixture.awayPenaltyScore}}) penalties
{{fixture.compName}} {{getType(fixture)}}
{{fixture.dateFormatted2}}, {{fixture.timeFormatted}} Kick Off Time TBC at {{fixture.stadium}}
Fifth Round results
v
P
P
AET ({{fixture.homePenaltyScore}} - {{fixture.awayPenaltyScore}}) penalties
{{fixture.compName}} {{getType(fixture)}}
{{fixture.dateFormatted2}}, {{fixture.timeFormatted}} Kick Off Time TBC at {{fixture.stadium}}
Fourth Round results
v
P
P
AET ({{fixture.homePenaltyScore}} - {{fixture.awayPenaltyScore}}) penalties
{{fixture.compName}} {{getType(fixture)}}
{{fixture.dateFormatted2}}, {{fixture.timeFormatted}} Kick Off Time TBC at {{fixture.stadium}}
Third Round results
v
P
P
AET ({{fixture.homePenaltyScore}} - {{fixture.awayPenaltyScore}}) penalties
{{fixture.compName}} {{getType(fixture)}}
{{fixture.dateFormatted2}}, {{fixture.timeFormatted}} Kick Off Time TBC at {{fixture.stadium}}
Second Round results
v
P
P
AET ({{fixture.homePenaltyScore}} - {{fixture.awayPenaltyScore}}) penalties
{{fixture.compName}} {{getType(fixture)}}
{{fixture.dateFormatted2}}, {{fixture.timeFormatted}} Kick Off Time TBC at {{fixture.stadium}}
Note: Ballymoney United v. Killyleagh YC - walkover, Ballymoney United progress to round two

Immaculata v. Barn United - walkover, Immaculata progress to round two
First Round results
v
P
P
AET ({{fixture.homePenaltyScore}} - {{fixture.awayPenaltyScore}}) penalties
{{fixture.compName}} {{getType(fixture)}}
{{fixture.dateFormatted2}}, {{fixture.timeFormatted}} Kick Off Time TBC at {{fixture.stadium}}
Note: Limavady United v. Banbridge Rangers - walkover, Limavady United progress to round two

Byes: Rosario YC, St. Oliver Plunkett, Chimney Corner, Portaferry Rovers, Craigavon City, Colin Valley, Bryansburn Rangers, Newmills, AFC Craigavon, Barn United, Ballymoney United, Malachians, 18th Newtownabbey OB, Woodvale, Crumlin United, Dungiven Celtic, Maiden City, Ambassadors, Dromore Amateurs, Sirocco Works, Mossley, Laurelvale, Newcastle, Hanover, St. Luke's, Windmill Stars, Killyleagh YC
In pictures: 2022 Irish Cup final