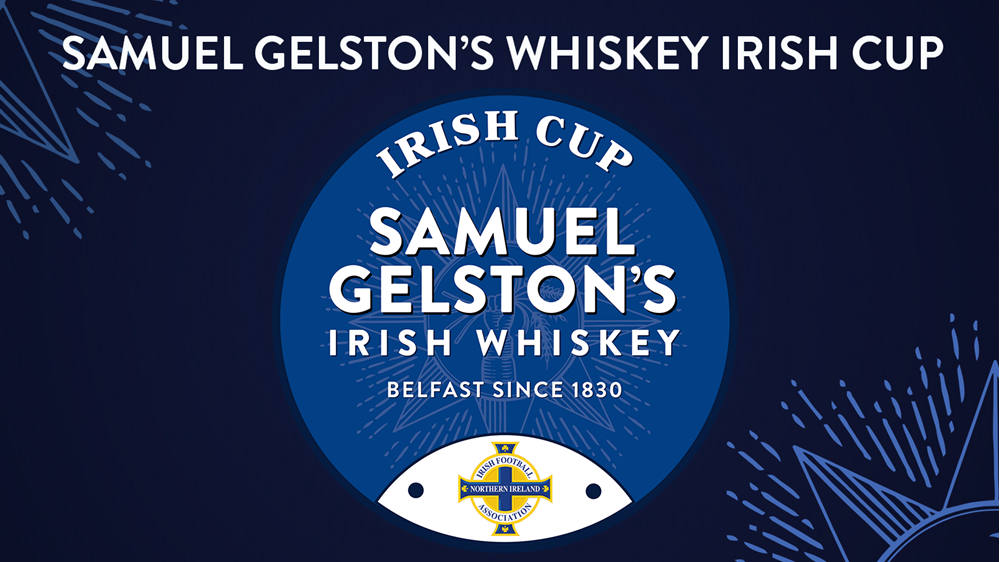 First contested in 1881, the Irish Cup is the fourth oldest national cup competition in the world.

Current holders Linfield defeated Larne 2-1 on 21 May thanks to goals from Shayne Lavery and Joel Cooper.
Linfield are the most successful team in the history of the competition, having won it 44 times and finishing runners-up on a further 21 occasions.
Previous winners over the past 10 seasons:
2020/21 - Linfield
2019/20 - Glentoran
2018/19 - Crusaders
2017/18 - Coleraine
2016/17 - Linfield
2015/16 - Glenavon
2014/15 - Glentoran
2013/14 - Glenavon
2012/13 - Glentoran
2011/12 - Linfield
Samuel Gelston's Whiskey Irish Cup
Final
v
P
P
AET ({{fixture.homePenaltyScore}} - {{fixture.awayPenaltyScore}}) penalties
{{fixture.compName}} {{getType(fixture)}}
{{fixture.dateFormatted2}}, {{fixture.timeFormatted}} Kick Off Time TBC at {{fixture.stadium}}
Semi-final results
v
P
P
AET ({{fixture.homePenaltyScore}} - {{fixture.awayPenaltyScore}}) penalties
{{fixture.compName}} {{getType(fixture)}}
{{fixture.dateFormatted2}}, {{fixture.timeFormatted}} Kick Off Time TBC at {{fixture.stadium}}
Quarter-final results
v
P
P
AET ({{fixture.homePenaltyScore}} - {{fixture.awayPenaltyScore}}) penalties
{{fixture.compName}} {{getType(fixture)}}
{{fixture.dateFormatted2}}, {{fixture.timeFormatted}} Kick Off Time TBC at {{fixture.stadium}}
Round Two results
v
P
P
AET ({{fixture.homePenaltyScore}} - {{fixture.awayPenaltyScore}}) penalties
{{fixture.compName}} {{getType(fixture)}}
{{fixture.dateFormatted2}}, {{fixture.timeFormatted}} Kick Off Time TBC at {{fixture.stadium}}
Round One results
v
P
P
AET ({{fixture.homePenaltyScore}} - {{fixture.awayPenaltyScore}}) penalties
{{fixture.compName}} {{getType(fixture)}}
{{fixture.dateFormatted2}}, {{fixture.timeFormatted}} Kick Off Time TBC at {{fixture.stadium}}
Note: Dundela v. Ards - Dundela fielded an ineligible player, Ards reinstated
Preliminary Round Four results
v
P
P
AET ({{fixture.homePenaltyScore}} - {{fixture.awayPenaltyScore}}) penalties
{{fixture.compName}} {{getType(fixture)}}
{{fixture.dateFormatted2}}, {{fixture.timeFormatted}} Kick Off Time TBC at {{fixture.stadium}}
Preliminary Round Three results
v
P
P
AET ({{fixture.homePenaltyScore}} - {{fixture.awayPenaltyScore}}) penalties
{{fixture.compName}} {{getType(fixture)}}
{{fixture.dateFormatted2}}, {{fixture.timeFormatted}} Kick Off Time TBC at {{fixture.stadium}}
Preliminary Round Two results
v
P
P
AET ({{fixture.homePenaltyScore}} - {{fixture.awayPenaltyScore}}) penalties
{{fixture.compName}} {{getType(fixture)}}
{{fixture.dateFormatted2}}, {{fixture.timeFormatted}} Kick Off Time TBC at {{fixture.stadium}}
Note: Wellington Rec. and Donegal Celtic dismissed, Mossley FC progress to Qualifying Round Three

Sirocco Works v. Newtowne - walkover, Sirocco Works progress to Qualifying Round Three

Derriaghy CC v. Bloomfield - match abandoned after 50 minutes due to serious injury

Aquinas v. Crewe United - match abandoned after 74 minutes due to serious injury
Preliminary Round One results
v
P
P
AET ({{fixture.homePenaltyScore}} - {{fixture.awayPenaltyScore}}) penalties
{{fixture.compName}} {{getType(fixture)}}
{{fixture.dateFormatted2}}, {{fixture.timeFormatted}} Kick Off Time TBC at {{fixture.stadium}}
Note: Wellington Rec. v Donegal Ceitic

The Challenge Cup Committee noted that the Disciplinary Committee charged and sanctioned both Wellington Rec FC and Donegal Celtic FC with the abandonment of the above fixture in accordance with Article 23 of the IFA Disciplinary Code.

Following consideration, the Challenge Cup Committee determined that both Wellington Rec and Donegal Celtic be dismissed from this season's Sadler's Peaky Blinder Irish Cup with Mossley FC progressing to Qualifying Round 3 of this season's competition.

Byes: 18th Newtownabbey OB, Ballynahinch Olympic, Bangor, Bloomfield, Colin Valley, Comber Rec., Crewe United, Downshire YM, Drumaness Mills, Dunmurry YM, Glebe Rangers, Immaculata, Kilmore Rec., Laurelvale, Lisburn Rangers, Markethill Swifts, Mossley, Newington, Oxford Sunnyside, Rathfriland Rangers, St. James' Swifts, St. Mary's YC, Strabane Athletic, Tandragee Rovers
In pictures: 2022 Irish Cup final