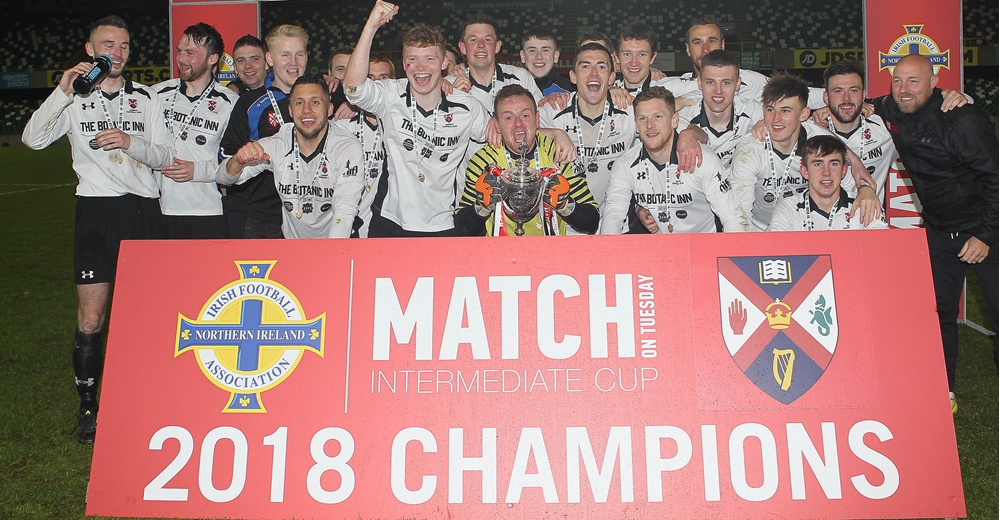 First contested in 1892, the IFA Intemediate Cup is Northern Ireland's premier competition for clubs of intermediate status.

Linfield Swifts are the most successful side in the competition, having won it 11 times, most recently in 2003-04, with Dundela following closely behind with ten victories.

Current holders Queen's University defeated Dundela 4-1 in last season's final at the National Football Stadium at Windsor Park.

Previous winners over the past ten seasons have also included:-
2016/17 - Limavady United
2015/16 - Institute
2014/15 - Carrick Rangers
2013/14 - Bangor
2012/13 - Institute
2011/12 - Newry City
2010/11 - Carrick Rangers
2009/10 - Donegal Celtic
2008/09 - Knockbreda

The 2018/19 Match Intermediate Cup final, Crumlin Star v. Queen's University, will be played on Thursday, 9th May, 2019. Details to be confirmed.
Click on the tabs below to view the results and fixtures so far.
Final
Semi-finals
v
P
P
AET ({{fixture.homePenaltyScore}} - {{fixture.awayPenaltyScore}}) penalties
{{fixture.compName}} {{getType(fixture)}}
{{fixture.dateFormatted2}}, {{fixture.timeFormatted}} at {{fixture.stadium}}
Quarter-finals
v
P
P
AET ({{fixture.homePenaltyScore}} - {{fixture.awayPenaltyScore}}) penalties
{{fixture.compName}} {{getType(fixture)}}
{{fixture.dateFormatted2}}, {{fixture.timeFormatted}} at {{fixture.stadium}}
Fourth Round
v
P
P
AET ({{fixture.homePenaltyScore}} - {{fixture.awayPenaltyScore}}) penalties
{{fixture.compName}} {{getType(fixture)}}
{{fixture.dateFormatted2}}, {{fixture.timeFormatted}} at {{fixture.stadium}}
Third Round
v
P
P
AET ({{fixture.homePenaltyScore}} - {{fixture.awayPenaltyScore}}) penalties
{{fixture.compName}} {{getType(fixture)}}
{{fixture.dateFormatted2}}, {{fixture.timeFormatted}} at {{fixture.stadium}}
Second Round
v
P
P
AET ({{fixture.homePenaltyScore}} - {{fixture.awayPenaltyScore}}) penalties
{{fixture.compName}} {{getType(fixture)}}
{{fixture.dateFormatted2}}, {{fixture.timeFormatted}} at {{fixture.stadium}}
First Round
v
P
P
AET ({{fixture.homePenaltyScore}} - {{fixture.awayPenaltyScore}}) penalties
{{fixture.compName}} {{getType(fixture)}}
{{fixture.dateFormatted2}}, {{fixture.timeFormatted}} at {{fixture.stadium}}