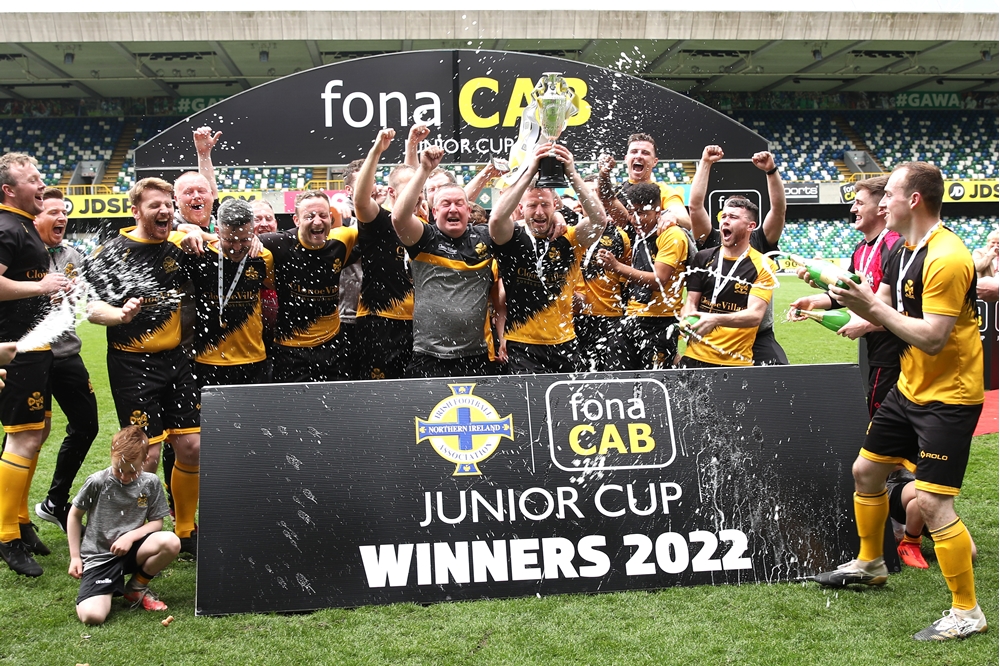 First contested in 1888, the Irish FA Junior Cup is Northern Ireland's premier competition for clubs of junior status.

Current holders Coalisland defeated Bangor YM in the final at the National Football Stadium at Windsor Park in May, winning 4-1.

Previous winners over the past ten seasons:

2019/20 - Willowbank FC
2018/19 - Enniskillen Rangers
2017/18 - Enniskillen Rangers
2016/17 - Enniskillen Rangers
2015/16 - Harryville Homers
2014/15 - Harryville Homers
2013/14 - Harryville Homers
2012/13 - Strathroy Harps
2011/12 - Strathroy Harps
The fonaCAB Junior Cup fixtures scheduled for Saturday 10 September have been postponed as a mark of respect following the passing of Queen Elizabeth II. 
Details on a new date will be communicated in due course. 
Second Round fixtures
v
P
P
AET ({{fixture.homePenaltyScore}} - {{fixture.awayPenaltyScore}}) penalties
{{fixture.compName}} {{getType(fixture)}}
{{fixture.dateFormatted2}}, {{fixture.timeFormatted}} Kick Off Time TBC at {{fixture.stadium}}
First Round fixtures & results
v
P
P
AET ({{fixture.homePenaltyScore}} - {{fixture.awayPenaltyScore}}) penalties
{{fixture.compName}} {{getType(fixture)}}
{{fixture.dateFormatted2}}, {{fixture.timeFormatted}} Kick Off Time TBC at {{fixture.stadium}}
Note: Beann Mhadaghain v. Roe Rovers - walkover, Beann Mhadaghain progress to round two

Dungiven Celtic Reserves v. St. Patrick's YM - walkover, St. Patrick's YM progress to round two

Belfast Athletic v. Artigarvan - walkover, Belfast Athletic progress to round two

Newbuildings United Reserves v. Rosario YC II - walkover, Rosario YC II progress to round two

Roe Valley v. Newcastle Swifts - walkover, Roe Valley progress to round two

Maghera Strollers v. FC Antrim - walkover, FC Antrim progress to round two

Lisbellaw United v. Woodlands - walkover, Lisbellaw United progress to round two

Byes: 4th Newtownabbey OB, Annagh United Reserves, Aquinas II, Bangor YM, Carniny Amateur & Youth, Caw, Colin Valley II, Dergview Reserves, Derrychara United, Drumquin United, St Matthews, Tullycarnet II, Tummery Athletic, Upperlands