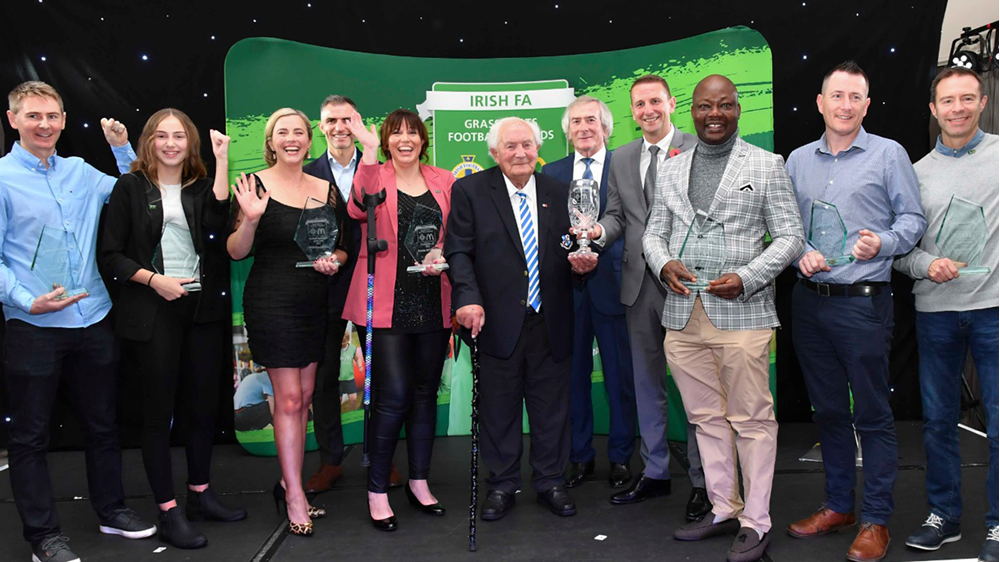 The McDonald's Irish FA Grassroots Football Awards 2021 celebrated those who contribute hours of their time for the good of football in Northern Ireland.
The awards recognised the incredible work and commitment of football clubs and volunteers within grassroots football, who give up their time to enable the local game to flourish and grow. 
---
The 2021 winners in full:
Young Volunteer of the Year
This award recognises the contribution young people make in the community within grassroots football. The category is open to young people from 14 to 24 years of age that make a significant impact in helping to support and develop opportunities for people to participate in the local game especially throughout the difficult conditions over the last year.
2021 winner: Ryleigh McComb (Valley Rangers, Co Down)
Volunteer of the Year 
This award recognises the countless hours that dedicated volunteers across Northern Ireland give to help their local club and game. Nominations will be accepted for anyone whose involvement in football has helped to develop others and the grassroots game. Given the impact of COVID-19, we are looking for examples of volunteers who have embraced the changing demands of the game within their community e.g. covid officers, development of online courses etc
2021 winner: Jahswill Emmanuel (Multi-Ethnic Sports & Culture, Belfast)
Wes Gregg Coach of the Year
This award recognises the outstanding contribution of a qualified coach (NCC/ Level 1 certificate and higher) at a grassroots club or Fun Football provider. Someone who encourages people starting, staying and/or succeeding in football through high quality coaching and who adapted to life throughout lockdown to find new ways to keep their players engaged.
2021 winner: Mark Emerson (Ballinamallard United, Co Fermanagh)
Football for All award 
This award celebrates an individual or club who has put inclusivity at the heart of the ethos of their club and has excelled in promoting Football for All. The winner of this award may have started a new girls' and women's team, developed a disability programme or used football as a power for good in their community through the introduction of mental health or cross community programmes.
2021 winner: Patricia McCullough (Ards Rangers, Co Down)
Club of the Year 
To celebrate the 30th anniversary of McDonald's in Northern Ireland, this year we will be shortlisting 30 Irish FA clubs across Northern Ireland. With this award, we recognise the clubs who have shown strong growth and progress in their community both on and off the field as well as recognise the impact McDonald's has had, and continues to have, across Northern Ireland through its support and sponsorship of grassroots football.
2021 winner: Tristar Boys' FC (Derry-Londonderry)
The People's Award
The People's Award recognises the outstanding contribution that an individual has made to football in their local community and beyond. 
2021 winner: Hilbert Willis (Loughgall FC)