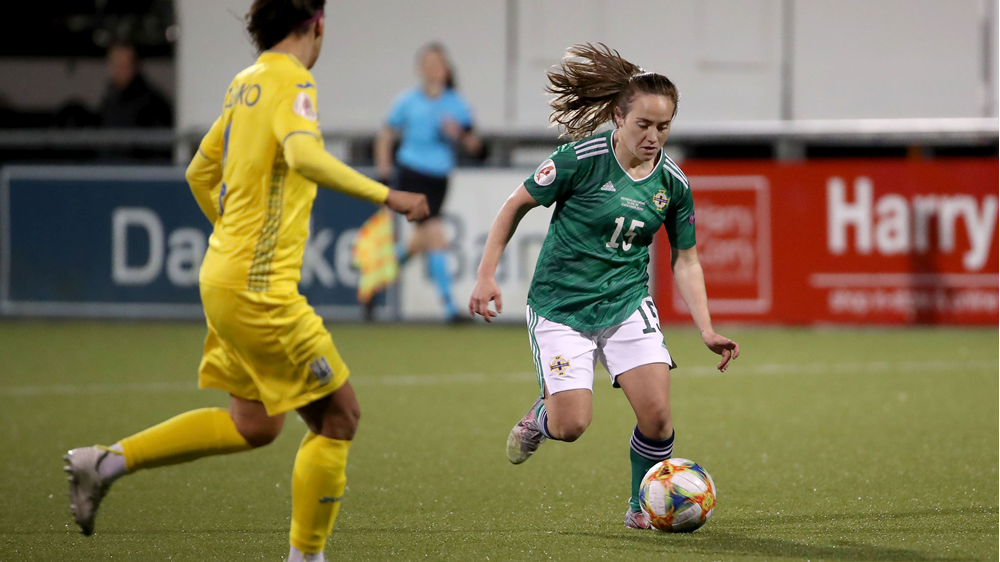 Northern Ireland's senior women's futsal team are gearing up for three Euro qualifiers in Lithuania next month.
Team boss Keith Gibson has put together a 19-strong training squad ahead of the three matches which will be whittled down to 12 before his team travel to eastern Europe.
The matches from 5-8 May against Lithuania, Slovakia and top seeds Serbia are in Group A of the preliminary round of the UEFA European Women's Futsal Championship 2022.
The winners of three Women's Futsal Euro preliminary rounds next month (postponed from May 2020) will advance to a main round in October, joining 13 teams given byes. From the main round four teams will emerge for a four-team knockout final tournament in March next year.
Gibson's training squad features three Glentoran Women players who were involved in the Northern Ireland senior women's team's UEFA Women's Euro 2022 play-off success against Ukraine last week.
Midfielder Samantha Kelly, who came off the subs bench in both play-off matches, and forward Kerry Beattie, who was in the squad, are included in the panel.
And midfielder Nadene Caldwell, who scored the winner against the Ukrainians in the second leg of the play-off, is also in the training group, however it is unlikely she will be able to travel to Lithuania due to work commitments.
Also in the panel is Beth McKay, who has just signed for Hearts Women where she is being coached by Andy Kirk, the former Northern Ireland and Hearts player, and legendary Northern Ireland defender Aaron Hughes, who is one of Kirk's assistant coaches.
Linfield Ladies defender Abbie Magee has had to withdraw from the futsal training squad due to injury after she damaged a knee in the run-up to the 11-a-side games against the Ukrainians.
The Northern Ireland manager said: "The players have worked really hard in preparation for this four-team mini tournament, overcoming all the difficulties that the current Covid regulations have thrown at them. With no available friendlies and no futsal league last year they have had to work even harder and have risen to the challenge. 
"We are eagerly anticipating the three games and looking to build on the fantastic buzz around our football team qualifying for the Euros next year and hoping to emulate that fantastic achievement."
And Gibson added: "As the bottom seed in the group these will be tough games but in the last Euros we had narrow defeats by Belgium and Holland. This time we are looking to go one better and put points on the board."
The training panel features:
Goalkeepers - Alice Harkness-Armstrong (Manchester Futsal), Anna Daly (unattached), Caiomhe Callaghan (Sion Swifts Ladies), Erin Cunningham (Carnmoney Ladies), Laura Devine (Crewe United Ladies).
Defenders - Erin Henitty (Comber Rec Ladies), Heather Mearns (Crusaders Strikers), Louise McFrederick (Linfield Ladies).
Midfielders - Beth McKay (Hearts Women), Megan Weatherall (Cliftonville Ladies), Nadene Caldwell (Glentoran Women), Samantha Kelly (Glentoran Women), Shannon Dunne (Glentoran Women), Siobhan Bell (St James' Swifts), Hannah Firth (Ballymena United Allstars), Olivia Brown (Comber Rec Ladies).
Pivots - Amber Dempster (Linfield Ladies), Kerry Beattie (Glentoran Woman), Rachel McConnell (Cliftonville Ladies).
Image: Sam Kelly, seen here in action for Northern Ireland's senior women's 11-a-side team against Ukraine last week, is also part of the senior women's futsal (five-a-side) training squad.