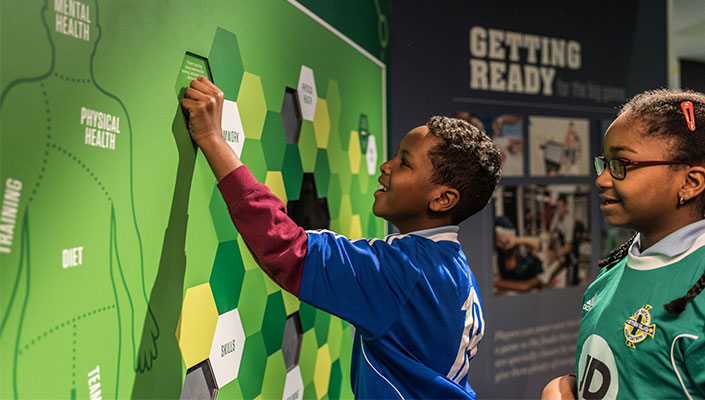 Virtual Workshop
We are offering fun virtual sessions giving an insight into the rich history of the Irish Football Association and Northern Ireland's contribution to the world of football, inspiring the next generation of football and sports fans.
In our virtual workshop we discuss William McCrum: The Inventor of the Penalty Kick and Patrick O'Connell: 'Saviour' of FC Barcelona – and we will also be reliving some of our biggest achievements, including World Cup qualifications and more recently our Euro 2016 adventure.
"Thank you for your very entertaining and informative talk today. You have great program and the kids thoroughly enjoyed it. I look forward to the day we are allowed to visit Windsor Park for the tour." - Drumahoe PS
Pricing and info
Although not quite the same as a visit to the National Football Stadium at Windsor Park, our 45-minute sessions are informative and engaging, offering an opportunity to forget current restrictions and immerse yourself in the beautiful game.
The cost per group session is £75 + VAT (Group size up to 30 people)
Sessions are run on Zoom or MS Teams.
"I just wanted to say thank you very much for the virtual tour today, the children all really enjoyed it." - Victoria Park PS
How to book
To book or for more information contact tours@irishfa.com 
"The kids loved your presentation. Was very informative." - Strandtown PS