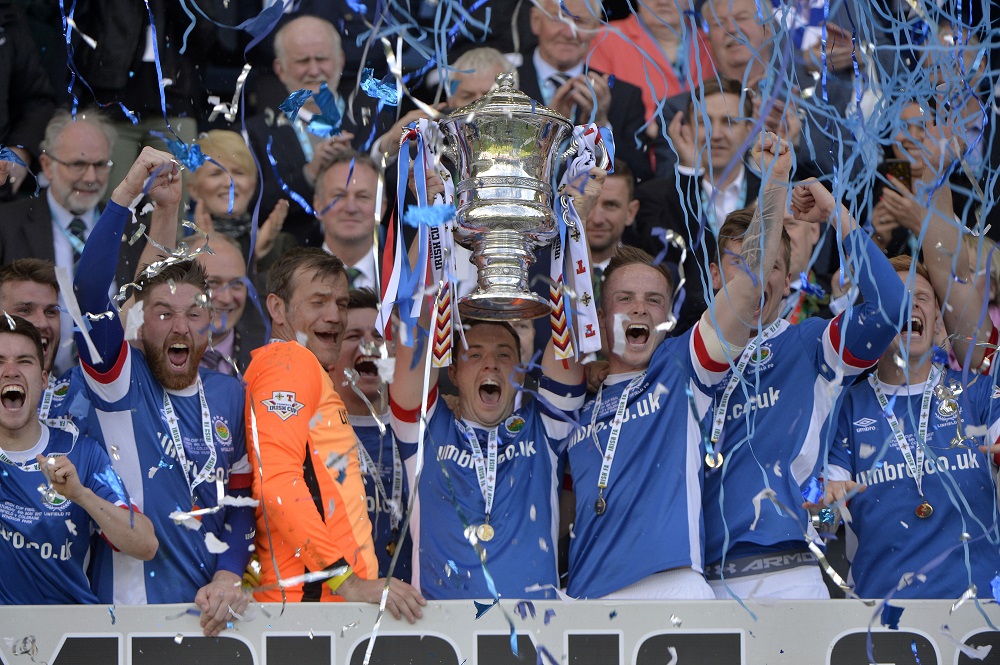 An Andrew Waterworth hat-trick blasted Linfield to victory over Coleraine in today's Tennent's Irish Cup final at the National Football Stadium.
It was the second time in as many weeks that the 31-year-old claimed the match ball after his three-goal haul last Saturday helped clinch the league title for David Healy's side.
Perhaps somewhat surprisingly, given the occasion, the game got off to a bright start with both sides flexing their muscles early on.
Mark Haughey created the first effort of note on four minutes with a header which was saved at full stretch by Coleraine 'keeper Chris Johns.
At the other end, Brad Lyons sent a free-kick over the bar before an audacious Eoin Bradley effort met a similar fate.
Linfield had arguably the best chance to date on 22 minutes when some good work from Matthew Clarke found Aaron Burns but his effort from just inside the area took a deflection on its way over while, moments after that, Mark Stafford will be disappointed to turn the ball wide from close range.
The deadlock was broken just before the half-hour mark. Waterworth took the ball past a couple of defenders, laid it off for Paul Smyth who promptly returned it for the former Hamilton Academical man to slot past Johns at the near post.
And it was 2-0 just four minutes later. The ball fell for Burns as he burst into the area but his shot on goal was saved by Johns, albeit only as far as the inrushing Waterworth who wasted no time firing into the unguarded net to double his tally for the afternoon.
To their credit, Coleraine didn't let their heads dropped and rallied a little before the break with Jamie McGonigle and then Lyons sending efforts just past the target.
After the interval, during which neither side made any changes, Clarke came closest to adding to Linfield's lead only to fire an effort straight at Johns.
The Bannsiders might have reduced the deficit just before the hour when McGonigle nodded just wide after Ciaron Harkin quickly flicked the ball into his path.
Coleraine gathered in momentum as the half progressed, but without really possessing that cutting edge in front of goal.
Blues defender Mark Stafford demonstrated his craft perfectly with a superb challenge to cut out the threat as McGonigle bore down on goal while Bradley, a cup winner last season with Glenavon, was twice thwarted from dangerous positions.
However, Coleraine's challenge was well and truly snuffed out with three minutes to go after again being picked out by Smyth to fire home from close range and secure a first cup final hat-trick since Ards' Billy McAvoy managed the feat back in 1969.
Coleraine: Johns, Kane, Mullan, Harkin, Ogilby, McCauley, McLaughlin, McConaghie, Lyons, McGonigle, Bradley subs Douglas (not used), McCafferty (not used), Parkhill (replaced McLaughlin 57), Doherty (not used), Allan (replaced McGonigle 82)
Linfield: Carroll, Stafford, Haughey, Callacher, Waterworth, Lowry, Burns, Clarke, Mulgrew, Quinn, Smyth subs Stewart (replaced Burns 82), Millar (not used), Ward (not used), Casement (replaced Smyth 89), Deane (not used)
Final
v
P
P
AET ({{fixture.homePenaltyScore}} - {{fixture.awayPenaltyScore}}) penalties
{{fixture.compName}} {{getType(fixture)}} - {{fixture.dateFormatted}}
Semi-finals
v
P
P
AET ({{fixture.homePenaltyScore}} - {{fixture.awayPenaltyScore}}) penalties
{{fixture.compName}} {{getType(fixture)}} - {{fixture.dateFormatted}}
Quarter-finals
v
P
P
AET ({{fixture.homePenaltyScore}} - {{fixture.awayPenaltyScore}}) penalties
{{fixture.compName}} {{getType(fixture)}} - {{fixture.dateFormatted}}
Sixth Round
v
P
P
AET ({{fixture.homePenaltyScore}} - {{fixture.awayPenaltyScore}}) penalties
{{fixture.compName}} {{getType(fixture)}} - {{fixture.dateFormatted}}
Fifth Round
v
P
P
AET ({{fixture.homePenaltyScore}} - {{fixture.awayPenaltyScore}}) penalties
{{fixture.compName}} {{getType(fixture)}} - {{fixture.dateFormatted}}
Fourth Round
v
P
P
AET ({{fixture.homePenaltyScore}} - {{fixture.awayPenaltyScore}}) penalties
{{fixture.compName}} {{getType(fixture)}} - {{fixture.dateFormatted}}
Third Round
v
P
P
AET ({{fixture.homePenaltyScore}} - {{fixture.awayPenaltyScore}}) penalties
{{fixture.compName}} {{getType(fixture)}} - {{fixture.dateFormatted}}
Second Round
v
P
P
AET ({{fixture.homePenaltyScore}} - {{fixture.awayPenaltyScore}}) penalties
{{fixture.compName}} {{getType(fixture)}} - {{fixture.dateFormatted}}
First Round
v
P
P
AET ({{fixture.homePenaltyScore}} - {{fixture.awayPenaltyScore}}) penalties
{{fixture.compName}} {{getType(fixture)}} - {{fixture.dateFormatted}}