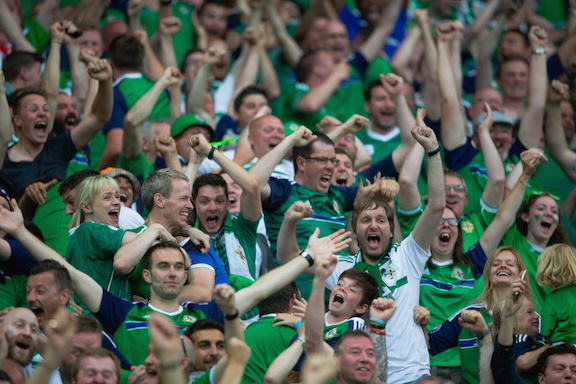 The Irish FA are working towards various scenarios to enable the safe return of fans in the stands for the remaining international home fixtures of 2020 at the National Football Stadium at Windsor Park in line with UEFA protocols and NI Executive rules.
In accordance with government guidelines, social distancing will be strictly adhered to and therefore capacity will be reduced significantly.  
The tickets which will be available for these fixtures will only be allocated to Campaign Card holders of the previous campaign and will be available on a match by match basis only. The allocation of match tickets will be via ballot.
Lead bookers have been emailed and asked to complete a preference form on behalf of all campaign card holders within their account. This must be submitted before 10am on Tuesday 22 September.
Terms and Conditions 
Entry into the ballot is valid only by completing the preference form. 

The preference form must be completed before 10am on Tuesday 22 September. 

You should only apply for tickets which you are prepared to purchase.

You are not guaranteed the total number of tickets you apply for due to reduced capacity.

The lead booker will act as point of contact for all ticket holders within their account for track and trace requirements.

The lead booker must confirm names of all ticket holders prior to fixture.

Tickets allocated through the ballot are non-transferable, cannot be sold on to third parties and cannot be swapped for a different fixture.

Ballot entry or match ticket purchase will have no effect on campaign card renewal options.

Match tickets allocated by ballot system will not be assigned loyalty points. 

Campaign card holders who are successful in the ballot will be notified approximately one week prior to the fixture. 

Due to changeable circumstances, tickets will not be distributed until 48 hours prior to match day and will be print at home tickets only.

Location of seat or stand can not be selected by Campaign Card holders. 

Any changes to government or UEFA guidelines that reduce the anticipated capacity could lead to ticket cancellations. In this instance a full refund will be offered.

In order to allow as many supporters as possible to attend autumn home fixtures on a match by match basis, multiple match attendance is not anticipated. 

If you or a campaign card holder within your account is successful in being allocated a ticket for Northern Ireland v Austria that ticket holder will not be permitted to apply for a ticket for the following fixtures unless increased capacity allows it. Others within the account, however, will not be affected and can re-apply (eg if you hold four campaign cards and are drawn for two tickets for the Austria game then you will only be able to have the remaining two unsuccessful campaign card holders submitted into the next ballot).
FAQs
Q – Are supporters permitted to attend the next home game?
A – At the moment this is under review on an ongoing basis both with UEFA and the Northern Ireland Executive. 
Q – Why are you contacting me if supporters may not be permitted to attend the next home game?
A – It is important to be prepared for the scenario of supporters attending the next home game. It takes a considerable amount of time to gather information and allocate tickets in this way. We are aware that not everyone will want to be considered for tickets and therefore we are giving Campaign Card holders the opportunity to state their preferences.
Q – Why are tickets being allocated by ballot?
A – Due to social distancing the capacity of the stadium will not accommodate each Campaign Card holders at one game. A ballot provides a fair process to determine who can attend.
Q- Why is the ballot restricted to Campaign Card holders only?
Campaign Card holders are those who attend every home game and therefore it is important that these supporters have the first chance to purchase tickets.
Q – If I'm successful in the ticket ballot for the Austria game, can I be drawn out for any other matches?
A – At the moment, we expect that restricted capacity will mean that supporters may attend one fixture only. 
Q If capacity increases will I be able to attend multiple matches?
A – In the first instance a ballot for Campaign Card holders who had not yet been allocated a ticket for any match would have preference. If there was availability of tickets after that, then a further ballot would take place for those supporters who had attended a previous match. 
Q – Will I be entered into the ballot as an individual or will everyone in my account receive a ticket if I'm drawn out?
A – The number of entries will depend on the number of campaign card holders you state in your preference form therefore all campaign card holders in your account are treated as individuals for the purpose of the ballot.
Q – So if I have twenty campaign card holders within my account, state preference for ten and am successful for only six tickets for the first game, where do I stand in the next ballot?
A – In the following ballot, you will again be asked to complete a preference form however those in your account who have attended Norther Ireland v Austria will be exempt from entering (in the above example six campaign card holders would be exempt and you could apply for any number of tickets up to a maximum of 14) 
Q – What happens if the Government or UEFA reduces the number of fans allowed to attend?
A – In these circumstances, some ticket cancellations may occur and a full refund will be offered 
Q – Why can I not be guaranteed my usual seat if I am successful?
A – Due to Social Distancing, many seats will be unavailable.
Q – If I'm drawn out in the ballot, why can't I decide which match I get to go to?
A – Due to the ever-changing circumstances, it is important that we focus on one game at a time only. Our aim is to allow as many campaign card holders as possible to have the opportunity to attend at least one fixture. 
Q – Can I swap for another game with someone else?
A- No, if successful, the lead booker will be asked to provide the name of the campaign card holder attending and this cannot be changed. 
Q – How much will my ticket cost if I am successful? 
A – All tickets will be priced at £35 for adults and £15 for juniors. A Ticketmaster service charge of £3.75 for adults and £2.25 for juniors will apply.
Q – Will hospitality tickets be available?
A – Supporters who hold Campaign Cards for Hospitality areas will be included in the ballot, if successful they will receive a general admission match ticket as hospitality areas are not included. 
Q – I am applying for junior Campaign Card holders within my account, what will happen if I am only selected for one ticket?
A junior must be accompanied by an adult therefore if you have applied for a junior within your account, the junior will be successful only if an adult ticket is also successful to accompany them.
UEFA Nations League play-off semi-final 
Path B Euro play-off semi-final between Northern Ireland and Bosnia and Herzegovina has been rescheduled.
It will now be played on Thursday 8 October. At present tickets are unavailable for visiting supporters.
Should Northern Ireland defeat Bosnia in the UEFA Euro 2020 semi-final play-off they would be guaranteed a home final against the winners of Slovakia v Republic of Ireland at the National Football Stadium at Windsor Park on Thursday 12 November.