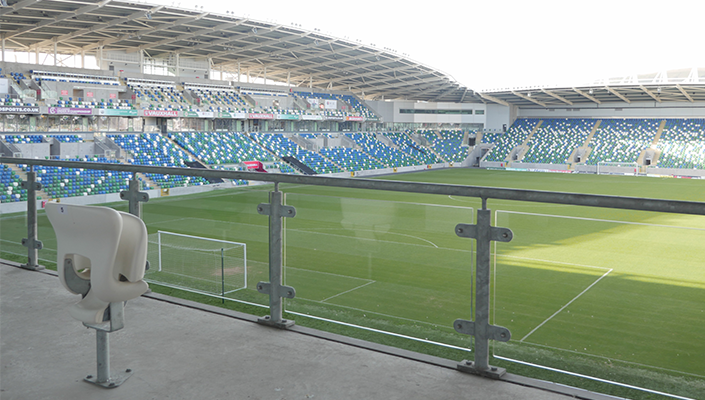 The National Football Stadium at Windsor Park has been designed to ensure that all visitors, including those with disabilities, enjoy an unrivalled match day experience.
The guiding principle for the stadium is that visitors with disabilities are accommodated at all levels and areas throughout the stadium and have the necessary facilities available to meet their needs.
Wheelchair-accessible seating
The National Football Stadium now offers fans 133 wheelchair-accessible spaces and an equal number of adjacent seats for their personal assistants.
Spaces are located at the rear of the East (Family) Stand, the South Lower Stand and the South Upper Stand. All seating is accessed via lifts in the respective stands. Accessible toilet facilities are available next to each seating area.
In addition, each of our corporate lounges are wheelchair-accessible, as are each of our corporate boxes.
Ambulant seating
For individuals who do not require a wheelchair but who may have mobility issues, we also have a number of ambulant seats located in the South and East Stands.
All of our ambulant seats offer step-free access, with entrances via lifts or the ground floor concourse. In addition, individuals who require an essential companion / carer while attending the match can request a complimentary seat.
Visually Impaired
Visually impaired fans can sit in any area of the stadium. Match commentary headsets are provided by Soccer Sight and can be obtained by filling out the below form.
Stewarding
A significant number of stewards have undertaken specific disability awareness training and are deployed to appropriate locations within the Stadium.
Parking
There are limited spaces available for accessible parking. These can be requested for when applying for tickets.
Application for Special Access Tickets
Campaign Card Holders – Friendly Internationals
Campaign card holders will be given the opportunity to purchase their usual seat(s) in advance of each Friendly International via their Irish FA Account Manager, available at www.irishfa.com/myaccount
Any campaign card seats that are not purchased in advance will be placed on general sale.
General Sale – All Matches
In order to request a wheelchair/ambulant/visually impaired or special access ticket where a companion is required, please complete and submit the form at the foot of this page. Please feel free to provide any further information relating to your requirements in the space provided.
Those wishing to apply for wheelchair accessible tickets, must be largely dependent upon a wheelchair, be registered disabled or where the dependency on a wheelchair is temporary they must be able to provide proof in the form of a doctor or hospital letter confirming this.
Wheelchair and ambulant applicants must also be accompanied by a companion who is capable of supporting the wheelchair/ambulant user's needs in the event of an emergency.
Please ensure to attach any relevant documentation relating to your application, e.g. a copy of a Blue Badge or a doctor's certificate. Once all documentation is received, tickets will be allocated and the Irish FA will contact you to arrange payment subject to availability.
Tickets will be sold on a first-come, first-served basis and will go on sale at the same time as General Admission tickets. Please note applications will close 5 working days prior to kick off.
Information relating to the Away International Special Access tickets will be available on a match-by-match basis.
If you have any queries, wish to discuss individual requirements and require further information regarding Special Access tickets, please do not hesitate to contact tickets@irishfa.com.
Below are a few points to remember.
Your wheelchair/ambulant ticket may arrive separately from your companion ticket.
If you have requested an essential companion, this ticket must be brought with you to gain entry to the Stadium.
All seats are numbered within the various stands, please make sure you avail of this seat only.
It is no longer possible to avail of temporary seating within the wheelchair areas of the ground, meaning if you purchase a wheelchair accessible ticket and an essential companion.  You will be allocated a wheelchair space and 1 permanent seat next to it. 
Please check your ticket fully, as entrance points may have changed.