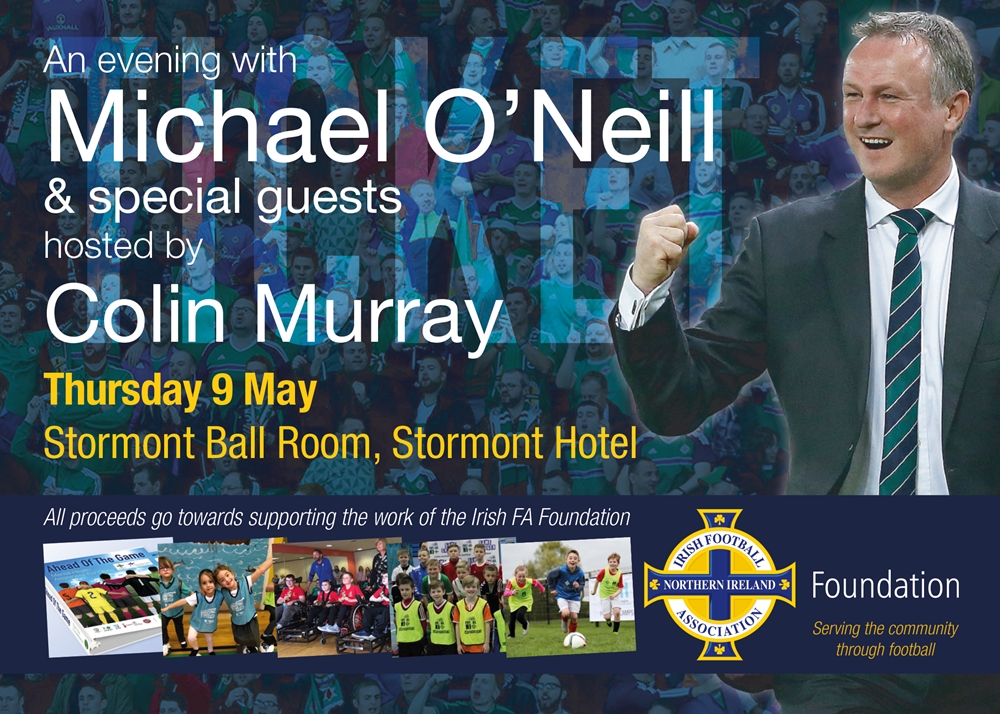 Irish FA Foundation Charity Dinner
The Irish FA Foundation are delighted to announce an evening with Michael O'Neill and special guests, hosted by Colin Murray.  This event will take place at the Stormont Hotel on Thursday 9th May, starting at 7pm.  The evening will begin with a drink's reception followed by a 3-course meal with a quiz conducted between the courses.  After dinner will follow a question and answer session with Michael O'Neill and the evening will conclude with a prize ballot and auction.
Ballot and auction prizes include:
* Northern Ireland shirt signed by current squad
* VIP hospitality tickets to a Northern Ireland home match
* Premier League match experience
* Football related artwork
* Hotel and restaurant vouchers
* Event tickets ... and much more
Tickets are £60 per person or £650 per table (table of 12).
All proceeds go towards supporting the work of the Irish FA Foundation promoting health, education and employability with disadvantaged children and young people across Northern Ireland.
This is an open application process and all successful applicants will be notified via a phone call for payment.  On occasion when demand for tickets outweighs supply applications will be considered on a first come first served basis