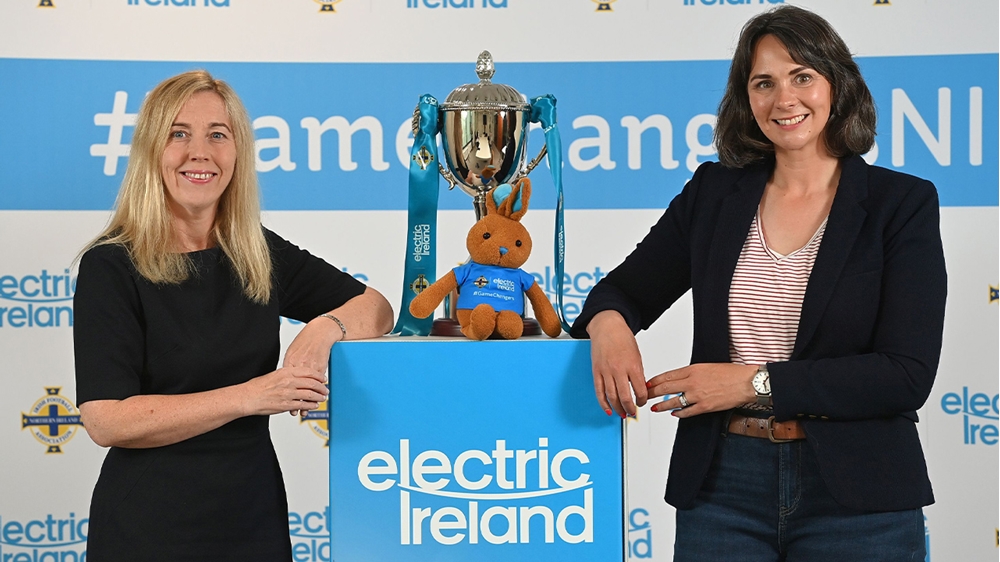 Image: Elaine Junk (left), chair of the Irish FA's Women's Challenge Cup Committee, and Electric Ireland's Anne Smyth with the new Girls' Challenge Cup trophy.
Electric Ireland has extended the Game Changers NI campaign to include a new cup competition for U16/U15 girls' teams in Northern Ireland.
The introduction of the Electric Ireland Girls' Challenge Cup builds on the brand's partnership with the Irish Football Association and its Game Changers NI campaign which aims to increase the opportunities for girls and women across Northern Ireland to be able to play and watch the beautiful game.
The energy provider is already the lead sponsor for women's and girls' grassroots football, the Northern Ireland youth international teams as well as the elite player pathway and the title sponsor of the Northern Ireland senior women's international team as part of its long term commitment to women's football.
Anne Smyth from Electric Ireland said: "Electric Ireland is delighted to see this competition launch and more opportunities for the next generation of girls to play in a really competitive cup. It is such an exciting time for the game locally and we are thrilled to see such an appetite to create this new competition."
Elaine Junk, chair of the Irish FA's Women's Challenge Cup Committee, which is overseeing the new competition, said: "Over the last couple of years the Electric Ireland Game Changers NI campaign in partnership with the Irish Football Association has really helped increase the profile, media coverage and participation numbers of young girls playing football in Northern Ireland.
"Given the recent success of the senior women's team qualifying for the Euros in 2022 there are now many more young girls aspiring to play for Northern Ireland and pull on the green jersey.
"It gives the Women's Challenge Cup Committee at the Irish FA and Electric Ireland great pleasure to announce the inaugural girls' national cup competition.
"The introduction of this youth competition will allow clubs from all across Northern Ireland to compete for this trophy and we expect the cup matches to be keenly contested. We would like to thank Electric Ireland for its unwavering support for the girls' and women's game here and we look forward to crowning our first ever Girls' Challenge Cup champions later in the year."
Competition schedule:
First Round - Friday 22 October, 2021
Quarter-finals - Friday 29 October, 2021
Semi-finals - Friday 26 November, 2021
Final - Saturday 11 December, 2021 *POSTPONED - new date tbc*
Semi-finals
v
P
P
AET ({{fixture.homePenaltyScore}} - {{fixture.awayPenaltyScore}}) penalties
{{fixture.compName}} {{getType(fixture)}}
{{fixture.dateFormatted2}}, {{fixture.timeFormatted}} Kick Off Time TBC at {{fixture.stadium}}
Ambassadors Girls v. Carnmoney Ladies - walkover, Carnmoney Ladies progress to the semi-finals
Linfield Ladies v Rosario Ladies *postponed - new date tbc*
Quarter-finals
Quarter-finals
v
P
P
AET ({{fixture.homePenaltyScore}} - {{fixture.awayPenaltyScore}}) penalties
{{fixture.compName}} {{getType(fixture)}}
{{fixture.dateFormatted2}}, {{fixture.timeFormatted}} Kick Off Time TBC at {{fixture.stadium}}
Linfield Ladies v. Comber Rec. Ladies - walkover, Linfield Ladies progress to the semi-finals

Carnmoney Ladies v. Portadown Ladies - walkover, Carnmoney Ladies progress to the semi-finals

Ambassadors Girls v. Ballymoney United Ladies - walkover, Ambassadors Girls progress to the semi-finals
First Round
v
P
P
AET ({{fixture.homePenaltyScore}} - {{fixture.awayPenaltyScore}}) penalties
{{fixture.compName}} {{getType(fixture)}}
{{fixture.dateFormatted2}}, {{fixture.timeFormatted}} Kick Off Time TBC at {{fixture.stadium}}
Byes: Ambassadors Girls, Ballymena United Women, Ballymoney United Ladies, Carnmoney Ladies, Comber Rec. Ladies, Linfield Ladies, Portadown Ladies