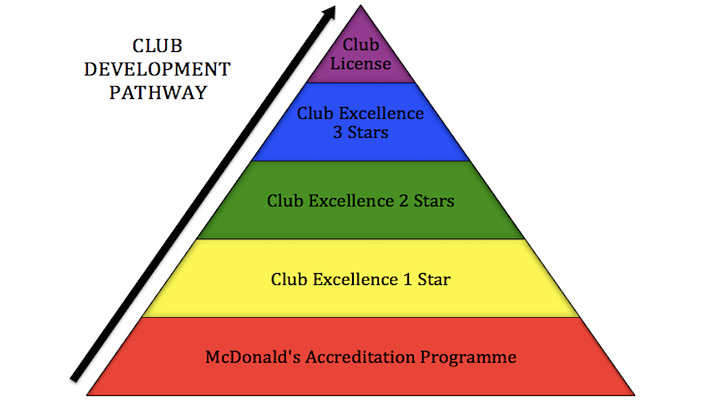 Welcome to the Irish Football Association's Club Accreditation scheme, the Football for All, Club Excellence Mark.
Football for All (FFA) is essentially about creating a fun, safe and inclusive culture throughout football in Northern Ireland. We want all aspects of football to embrace this ethos and football clubs are the very foundation and core of developing the game.
The FFA Club Excellence Mark is a bench marking system to help clubs instil a culture of best practice and strive to a quality standard that will help them to become all-embracing in the community. We hope that this will contribute to clubs being more successful and sustainable. This scheme attempts to marry our existing grassroots accreditation scheme and our club licensing criteria so that all clubs can aspire to a standardised tiered accreditation system.
How does the Football for All Club Excellence Mark work?
The FFA Club Excellence Mark is a tiered system with three different levels of accreditation: 1-star (entry standard), 2-star and 3-star (top standard).
These levels were designed to factor in existing accreditation work going on at the Grassroots / Small-Sided Games and semi-professional levels respectively.
• The 1-star mark is a step up from the ongoing McDonald's Accreditation programme being delivered by the Irish FA Grassroots department. Clubs that have been through this accreditation scheme would need to adhere to a range of additional criteria to achieve their Club Mark.
• The 2-star mark is an intermediate level for clubs who have achieved the 1-star mark or who feel they are well positioned to go straight in at that level
• The 3-star mark would factor in the A level criteria of the Irish FA's licensing system and clubs that have their A licence would need to fulfil a few additional criteria to attain level 3 Club Mark. There is nothing to prevent any other interested clubs aspiring to this level also.
The FFA Club Excellence Mark will provide support to clubs in the following four areas: 1. Club Governance: How the club is run in terms of committees, structures, guiding policies and principles. 2. Duty of Care and Protection: How the club looks after its members, players, coaches and volunteers and protects them from harm when representing the club. 3. Games and Coaching Development: How the club provides opportunities for development for all potential players and coaches. 4. Community Engagement and Outreach: How the club connects with the wider community. The Irish FA Club and Community Development Officer will oversee the scheme with support from colleagues and club volunteers willing to support other clubs through the process.
How can my club get involved?
If your club is interested in the clubmark scheme you can register online: http://db.sportni.net/ips/external/externalregistration.aspx
You will then be contacted by an Irish FA representative when an introductory meeting will be arranged to discuss the scheme and the process involved, before agreeing the level that would best suit your club.
You will also be given your Club Excellence Mark pack.
The Process
Once your club has registered, the process of developing your Football Club Mark portfolio or folder can begin.
This is a file of policies and procedures that guide the running of your club.
This is an open-ended process and can take anywhere from a few weeks to a few months, depending on where your club is at and the level of volunteer support at your disposal.
Assessment of clubs will take place once the club is happy it has met all the requisite criteria.
This will be in two stages:
1. The first will be your club folder or portfolio assessment.
2. The second stage will be more practical and will involve a club visit during regular club activity.
It will include observing the activity as well as meetings with coaches, parents and club committee members.
We would expect clubs to be able to get through the accreditation assessment process within three to six months. While there is some flexibility, once a club registers, the accreditation process should be completed within 12 months.
A time-frame for portfolio submission and assessments will be agreed in the introductory meeting with your club.
Once a club achieves Club Mark status, this will be valid for a three-year period. A review will be conducted within 12-18 months of your club obtaining its Football Club Excellence Mark.
Benefits & Incentives for Irish FA Club Excellence Club Mark holders
We envisage multiple benefits for clubs that obtain their FFA Club Excellence Mark.
While there are incentives in the form of equipment for clubs who achieve Club Mark Status, there are also a range of other ways in which Club Mark can help your club: • Increased membership: Evidence of this in GAA, tennis, gymnastics and other codes (12.5% average).Demonstrating that your club is a fun, friendly and safe club for children is a major selling point over other clubs. Evidence also shows that parents will travel greater distances in the knowledge that a club has the right ethos;
• Increased income as a knock-on effect of this, through annual membership fees;
• Will attract and engage new volunteers through increased membership, tapping into resources,e.g. new members and parents of new members;
• Funding and grants become more accessible if you can sell your work as community
• Integration / reconciliation;
• Better media profile for your club;
• Credits for coach education;
• Greater chance of success: Medium-term and long term;
• Makes the club more sustainable;
• More opportunities for club volunteers; • Better relationships with community groups, agencies and departments;
• Access to City Councils' support for Sport Grant; and Eligibility for Sport NI and other funding schemes.
Accredited clubs can also avail of one Sports NI Coach Education & Development workshop. For more, go to the following link: http://sportni.net/PertformanceSport/clubdevelopment/clubmarkni/benefiteofclubmark
This page has been designed to offer clubs at all levels of the game in Northern Ireland direct access to templates, webinars and other resources which they can utilise to help them develop their provision.
Many of the resources available are designed as examples of best practice with a view to clubs improving their off field policies and structures.
The Irish Football Association's Club & Volunteer Development unit are working tirelessly to improve the capacity of clubs nationwide using regional seminars, a range of short workshops and in particular through the rollout of the Club Excellence Mark accreditation.
The IFA Club & Community Development officer has worked closely with representatives from all major leagues to ensure all the resources below are specific to the needs of their clubs and as such, every club in the country can feel a benefit from one or more of the resources.
Find out the latest news within Club Development here.